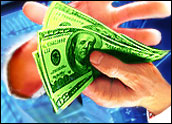 Following its failed effort to curb youngsters' access to video games with "Mature" or "Adults Only" ratings by fining kids for obtaining them, the state of Minnesota on Monday was the one paying.
The state paid the Entertainment Software Association (ESA) US$65,000, reimbursing the organization for attorney fees and expenses that resulted from the group's successful challenge to Minnesota's video game law.
The payout followed a July 2006 ruling in the ESA's favor by Judge James M. Rosenbaum, U.S. District Court, Minnesota, who issued a permanent injunction of the controversial law.
It's the ninth instance in which the ESA has contested the constitutionality of a law in jurisdictions across the country and emerged the victor. To date, the ESA has collected some $2 million to cover fees and expenses related to the court challenges.
Gamers and the Constitution
Minnesota State Senator Sandra L. Pappas (D) and State Representative Jeff Johnson (R) authored the law in an effort to limit children's access to violent games.
The lawmakers cite scientific evidence that link violent video games and the misbehavior of children who play them.
The judge, however, found that "there is no showing whatsoever that video games, in the absence of other violent media, cause even the [slightest] injury to children."
"Several other states have tried to regulate minors' access to video games. Every effort has been stricken for violating the First Amendment," Rosenbaum continued. He would not speculate on the motivations of the Minnesota legislation in its "nearly doomed effort to 'protect' our children. Who, after all opposes protecting children? But the legislators drafting this law cannot have been blind to its constitutional flaws."
Parental Gatekeepers
"Politicians are always looking for something to get the masses riled up about," Michael Goodman, a Yankee Group analyst, told the E-Commerce Times. "And violence in video games is an easy target. Whether the actual violence exists or not, it becomes a 'let's protect the kids' [issue], which in principal is a great thing to do. But there are right ways and wrong ways to go about it."
"There's this little thing called 'The Constitution' and freedom of speech they just keep trodding upon. The reality of it is, no law can protect your child. A parent has to protect their child. It means you have to be aware of what they're doing, and it means you have to be an involved parent. If you're an involved parent, then you don't need laws, because you have the ability to put your foot down and say, 'Yes you can' or 'No you can't do that,'" he continued.
A parent is involved in the purchase of a video game nearly nine out of every 10 times, said Eliot Mizrachi, a spokesperson for the Entertainment Software Rating Board, who cited recent research from the Federal Trade Commission.
"They are the gatekeepers when it comes to which games come into the home," he told the E-Commerce Times. "So it stands to reason that the best way to make sure kids are playing age-appropriate games is to educate parents about the tools and resources at their disposal, such as ESRB (Entertainment Software Rating Board) ratings, so they are prepared to make informed choices when deciding which games to allow their children to play," he said.
"Parental controls are another great tool that parents can use, and they're available on all the new game consoles. Between ESRB ratings, parental controls and the many resources available online, it's easier than ever before for parents to manage the video games their children play," he added.