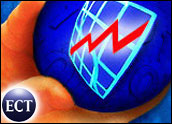 Console gaming sales continued at their record-breaking pace in May, according to sales figures released by the NPD Group Friday. The video game industry raked in a total of US$1.12 billion on sales of accessories, hardware and software for the month. That's a 37 percent increase over the same period in 2007.
It was also a banner month for Sony's PlayStation 3 platform, which saw a 155 percent increase in sales over the same period last year.
During the first five months of 2008, the video game industry has generated $6.6 billion in sales, exceeding the total annual revenue earned in 1997. That puts the industry on pace to end the year with revenues between $21 billion and $23 billion, according to Anita Frazier, an NPD analyst.
The release of the highly anticipated game "Grand Theft Auto IV" in April remained a major sales driver, Frazier noted. Microsoft Xbox 360 and Sony PlayStation 3 (PS3) gamers picked up more than 1.3 million copies of the controversial title, earning the game the top spot for the Xbox, which sold 871,300 units, and fourth spot for the PS3 with 442,900 games sold.
"'GTA IV' has now generated combined sales of 4.2 million units, making it the top-selling title of the year," Frazier stated.
Xbox 360, PS3 Still Duking It Out
The PS3's growing sales boosted it over rival Xbox 360. Sony sold 208,700 of its latest generation of consoles, while Microsoft moved 186,000.
"I've expected the PS3 to benefit from momentum this year, and so far that is the case. I'd like to see faster growth going into the fourth quarter, and we may see accelerated PS3 hardware sales this month from the exclusive release of the latest 'Metal Gear Solid' title," IDC Analyst Billy Pidgeon told the E-Commerce Times.
Microsoft's console has a one-year lead on the other two platforms, and sales seem to have slowed by about 1 percent year-over-year, according to Wedbush Morgan Analyst Michael Pachter. However, he said, it's simply the start of stable sales for the older console.
"It's not like they're doing worse today than they did a year ago. And Sony got a little bit of a lift from 'Grand Theft Auto,' but it's not like Sony outsold them three to one. Microsoft and Sony should view each other as taking share from each other. Neither of them is going to completely eliminate the other one, and considering that they are both pretty formidable, you should expect sales to be about the same for the two," he explained.
"Microsoft should worry when PS3 sales are 50 percent higher or something," Pachter added.
Sales Cut Coming?
However, decreasing sales could mean a price cut is on the way, Pachter said.
"They haven't ever really cut the price dramatically. They only cut the price once by 50 bucks, and they need another $50 or $100 cut to spur sales. They're being prudent about it. As long as their sales are running about 200,000 a month there's no real reason cut price. If we see a decline of 10 percent more, they'll probably think about it," he told the E-Commerce Times.
Pidgeon, however sees trouble on the horizon for Redmond's platform.
"The charts don't look good for Microsoft in NPD's U.S. May 2008 numbers, but the Xbox 360 has had a year's lead on the PS3 and the Wii," he said.
It's not all bad news for Microsoft, according to Pidgeon.
"The good news is that Microsoft has a great business selling to its installed base with hardcore gamers buying higher-priced software more often and also buying software in the Xbox Live marketplace. However, the bad news is that the growth of the installed base is slowing," he stated.
"Sony and Nintendo have had more success increasing penetration in non-traditional demographics with the PS2, the DS and the Wii. It's not surprising that the combination of value pricing games targeting the mass market gamer on those platforms is moving more units," Pidgeon noted.
Wii Still Fit
However, the Nintendo Wii, long parked in the No. 1 spot for console sales, trounced the competition once again with sales of more than 675,000 units — more than triple its rivals. This left Microsoft and the PS3 battling over which console would take second place.
Games for the Nintendo console, including "Wii Fit" and a new edition of "Mario Kart" ranked No. 3 and No. 2 in game sales for May.
"It's not a surprise that Wii Fit and the Wii console sold out, as supplies continue to be constrained as expected at this point in the cycle," said IDC's Pidgeon.
"Nintendo's SKU chart dominance is higher than expected and plays against the competitive claims that the Wii will have a lower attach rate. I think the prominence of Nintendo Wii titles bundled with accessories is very significant. This indicates that the Wii is attracting more users per household, and that the Nintendo first party peripherals business is boosting gross revenues as well as margins for Nintendo and for retailers," he said.