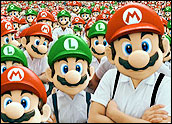 The video games industry racked up hardware and software sales of roughly US$1.7 billion in March, according to NPD Group, a consumer sales tracking firm. Total sales in March 2008 were some 57 percent higher than the $1.1 billion the industry made just one year earlier.
"You'd never know that the U.S. economy was under distress by looking at the video games industry sales figures. Year-to-date growth is rock-solid 27 percent through March," said Anita Frazier, an NPD industry analyst.
Video game software accounted for the bulk of the gaming industry's earnings with nearly $946 million in sales. Hardware did not lag far behind, bringing in $551.3 million in March. Video game accessories had a decent showing as well with sales of $220 million, an increase of 58 percent over March 2007.
"Overall hardware sales are staggering, and that is what is sustaining this software sales growth. The software numbers are unprecedented and largely unfathomable," said Michael Pachter, a Wedbush Morgan analyst.
"It is important to note that March represented the second highest sales month ever — outside of Decembers — with only November 2007 higher, and we expect sales in April to approach the same level," Pachter added.
Wii Rolls On
Nintendo's Wii led console sales once again with 721,000 units sold to consumers in March. The gaming system's continued popularity was evident in game software sales as well with its "Super Smash Brothers: Brawl" coming in No. 1 with some 2.7 million copies sold.
The Wii's numbers are "definitely noteworthy," Frazier pointed out. Strong sales from "Super Smash Brothers: Brawl" and a greater supply of inventory helped the Wii capture the highest single month of sales of any platform outside the holiday timeframe.
Nintendo also snagged the No. 4 and No. 7 rankings among the top selling games in March with "Play with Remote" and "Guitar Hero III: Legends of Rock" continuing to sell well with some 409,800 and 264,100 units, respectively, in the hands of consumers.
Rounding Nintendo's stellar month, the Nintendo DS portable game console was also a winner, moving 698,000 devices from store shelves. Sales of the portable console were likely spurred by a combination of increased retail promotional activity along with a greater supply, which is now allowing some pent-up consumer demand to be satisfied, Frazier explained.
"Across hardware, software and accessories, the Wii contributed the most to total industry sales, representing 31 percent of total industry dollars for the month," she told the E-Commerce Times.
The Wii's extraordinary sales were "no surprise" to Pachter, who had predicted that the console would sell 700,000 units in March.
"It appears that Wii and DS hardware availability picked up significantly in March, likely in anticipation of strong March, April and May software launches," he noted.
Microsoft and Sony Still Slugging It Out
Microsoft's Xbox 360 beat out Sony's PlayStation 3 (PS3) by a scant 5,000 units in March. The Xbox ended the month with 262,000 of the devices changing hands, while the PS3 logged sales of 257,000 units.
In terms of software sales, the Xbox 360 had the strongest sales, with four games ranked among the top 10 sellers. March releases were good for Microsoft with "Tom Clancy's Rainbow Six: Vegas 2" and "Army of Two," owning the No. 2 and No. 3 spots and selling some 752,300 and 606,100 copies in March.
"All platforms, aside from the PS2, showed significant increases when compared with March 2007. The industry realized great growth last year and so far this year; that momentum is carrying through," Frazier said.
Sony's March sales represent a year-over-year sales growth of 98 percent and boost the total number of consoles purchased in the U.S. to nearly 780,000, the company said.
Seven years into its lifecycle, the PlayStation 2 (PS2) remains a money maker for Sony as well. The system sold only slightly fewer units than its technologically advanced successor. Consumers scooped up 216,000 of the consoles in March.
Meanwhile, the PlayStationPortable (PSP) outsold the PS3 at 297,000 sold, but that is only half of the total number of Nintendo DS games sold.
On the software side, the PSP came in fifth and sixth with "God of War: Chains of Olympus" selling 340,500 units and "Crisis Core: Final Fantasy VII" moving 301,600 copies.
"Sony is doing fine, but PS3 sales are running at around 50 percent of the PS2 sales level five years ago, at double the price point. As pricing comes down, unit sales will increase," Pachter told the E-Commerce Times.
Spring Looking Good
The highly anticipated and delayed debut of "Grand Theft Auto IV (GTA IV)" is planned for the end of April, and expectations for its success run high. April looks like it will be another chart topper for the video games industry.
"'GTA IV' seems poised to capture the coveted top-selling game crown, and I would imagine it will help console sales," said Michael Inouye, an analyst at InStat.
The arrival of "Mario Kart" in April as well and the release of Nintendo's "Wii Fit" in May will add further momentum and help keep the video game market humming through the end of spring, Pachter said.
There are also rumors making the rounds — supported by sightings on some online retailers sites — of a packaged console with "GTA IV" that will include "box art and all," according to Inouye.
"I believe this has only been seen in the European market. But anytime you have something of this magnitude and it spans both the 360 and the PS3 — Halo 3 was only 360 — it has the potential to create a larger impact," he explained.
This could be the year that levels the competition between the PS3 and Xbox 360, Inouye told the E-Commerce Times.
"The 360 up until now has had an edge on the PS3 in terms of gaming because of the larger number of exclusive hit titles last year were on the 360, and those titles expected to be exclusive to the PS3, e.g. 'Devil May Cry 4,' ended up on both platforms. PS3 does, however, have some exclusive content coming out this year like 'Metal Gear Solid' that will help renew the PS3 gaming portion. This might increase the number of games being purchased for the PS3," he noted.