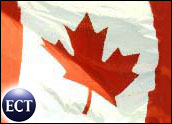 Private equity investors are interested in acquiringBCE, the parent company of Bell Canada, the country's largest telecom provider. BCE has confirmed news reports that it is indeed in talks with pension fund managers to take the company private.
Kohlberg Kravis Roberts & Co., a U.S. buyout firm, along with three Canadian pension funds — the Canada Pension Plan Investment Board, the pension fund Caisse de depot et placement du Quebec, and the Public Sector Pension Investment Board — have said they are pursuing the company. Canadian regulations would limit KKR's ownership to a minority holding of 46 percent.
Rumors have been circulating regarding a possible buyout, with various institutional players in the role of acquirer. Until now, BCE has played coy, refusing to confirm the speculation.
BCE "will be guided by the ongoing need to maximize value for the company's shareholders," the company says in a statement, "taking into consideration the need to meet all legislative and regulatory requirements, including ensuring the company remains Canadian, to meet existing foreign ownership restrictions."
Valuation and Other Issues
One issue that presumably will feature heavily in the negotiations is the company's valuation. BCE could go for more than US$45 billion including debt, which would represent the largest corporate buyout ever, noted Frederic Ruffy, an analyst with the investor education firm Optionetics.
BCE has not totally capitulated to the possibility of being acquired.
"However, investors seem convinced that something might happen," Ruffy told the E-Commerce Times. "As evidence, BCE is up $2.19 to $34.26 a share and volume is picking up in the May and June calls."
Watershed Moment
If the sale does go through, "it will be a watershed moment in Canadian telecom history," Kevin Restivo, a telecom analyst with the SeaBoard Group, told the E-Commerce Times. "This is the oldest and largest service provider in Canada."
Before an acquisition can take place, both buyers and sellers have to conduct thorough due diligence, he said, noting that there are pros and cons for both sides.
"I can see why the investors are interested — BCE has a strong cash flow [and] a strong customer base, but revenue growth is an issue," he remarked.
Still, if an acquisition does occur, new management will find itself grappling with several challenges. For starters, the firm's wireless division has slipped in recent years, overtaken by competitors.
Also, it has a bit of an image problem, Restivo observed, which BCE has only recently taken the trouble to address.
Pitfalls of Incumbency
BCE is facing many of the same challenges that are vexing incumbent carriers in the United States, Restivo continued.
"Competition from cable telephony and pure-play VoIP (Voice over Internet Protocol) providers has eaten away at its base, particularly in Quebec, whereVideotron has been especially successful," he said.
One of the most aggressive cable players in North America, Videotron has attracted some 500,000 subscribers in Quebec, according to Restivo, most of whom have come at the expense of BCE.
Another problem is that BCE has not launched a fiber-to-home strategy — as Verizon has done in the U.S. — to counter the competition. Nor has it launched a premium TV service, also seen as necessary.
All that said, BCE execs may not be eager to give up their baby. "The company was a disaster when [Michael] Sabia took it over as CEO. He has taken the company away from the precipice and turned it into a relatively strong company," commented Restivo. "I think he and his management team would prefer to stay the course."