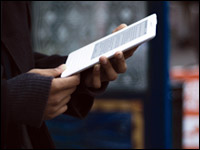 Amazon's self-publishing e-book platform appears to be overrun by spam or low-quality e-books, according to an analysis of the ecosystem by Reuters.
Of the thousands of digital books being published through Amazon's self-publishing system each month, many are spam, either developed via Private Label Rights or even using toolkits that help people produce e-books in bulk — a process that does not involve actually writing an original word, Reuters found.
Even though it's short on specifics, the report hasn't triggered much skepticism. Spammers and producers of low-quality content routinely inundate just about every new digital channel that becomes available. They started out with email more than a decade ago and now have evidently moved in on the nascent e-book marketplace.
Amazon did not respond to the E-Commerce Times' inquiries in time for publication.
Growing Space
If spammers did wind up choking this market, it would be shame. It offers an outlet to authors who might otherwise not be published or whose limited audience makes it far more cost-effective to self publish.
There's been a significant growth spurt by online self publishers, according to Reuters, which cited statistics from Albert Greco, a Fordham University marketing professor with expertise in the publishing industry.
Last year, almost 2.8 million nontraditional books, including e-books, were published in the U.S., compared with 316,000 traditionally published books. In 2002, those numbers were 33,000 and 215,000, respectively, Greco told Reuters.
No Quality Control
The problem is that the self-publishing platform has little in the way of quality controls built into it, said James Brehm, senior strategist and consultant with Compass Intelligence.
If current trends continue, the situation will only get worse, as a gray area in online marketing — opt-in spam — moves to e-book self publishing, he said.
"Opt-in spam" is spam that is "legitimately" sent to a user through a sleight-of-hand technique that employs marketing promos, explained Brehm. "A user signs up for something but gets something else — the marketing pitch — instead of or in addition to what he originally expected."
E-books are ripe for that type of spamming, he said, as they still have the aura of legitimate communication.
Kindle for Ads
It is in Amazon's best interest to curb such activity, as consumers could become disenchanted with the e-book model if it becomes smothered in spam.
Earlier this year, Amazon launched a cheaper version of its Kindle that is riding the growing popularity of e-books with a new monetization strategy: ads for ereaders. Called the "Kindle With Special Offers," it displays ads in noninvasive formats.
So far, readers have not objected — but when they have downloaded one too many spam e-books, they may start to view the entire industry with distaste.