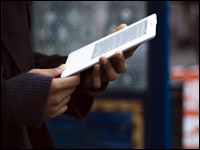 Maybe Amazon's dreams of beaches filled with summer readers clicking on Kindles instead of riffling through a James Patterson or Clive Cussler page-turner didn't quite pan out. Or maybe economic stimulus funds haven't trickled down far enough to get recession-weary consumers thinking of e-book readers as must-have purchases.
In any event, Amazon's decision Thursday to quietly lower the price for its Kindle 2 from US$359 to $299 has analysts trying to read whatever messages they can about the health of the e-book device market and whether a price war is looming.
New devices coming soon from companies like Plastic Logic may have Amazon thinking about getting an economic jump on the competition.
The Kindle 2 debuted in February, and during its first quarter earnings report in April, Amazon CEO Jeff Bezos crowed that Kindle sales had "exceeded our most optimistic expectations."
The company has never said exactly how many Kindles or Kindle 2s have been sold, but estimates in published reports put about 300,000 of the latest e-book reader in consumer's hands, compared to nearly 500,000 of the first version.
The Old Razors vs. Razor Blades Concept
Amazon's explanation is that the Kindle 2 is becoming cheaper to produce, hence the drop in price, according to press reports. However, that may not be the long and short of it.
In a tough economy, "consumers want to pay less," noted Yankee Group analyst Carl Howe. "I think the real issue is an e-book reader at several hundred dollars is a pretty pricey device. You can get a Blu-ray player, you can get a smartphone, you can get a 32-GB iPhone, for that matter.
"It's a fairly high-priced device, and you still have to buy media for it," Howe told the E-Commerce Times. "Yeah, it's cheaper to make, but I think they're also looking to expand their market."
Amazon might be able to do that, thanks to the same razors-vs.-razor-blades theory that made HP a technology powerhouse; sell printers at a one-time price, and keep people coming back to you for ink, other supplies and maintenance.
"It's not so much profit coming from the Kindle, but more profit from the books that people consume," Rob Enderle, principal analyst for the Enderle Group, told the E-Commerce Times.
"With a new product, you get a wave of people wanting to be first to own it," he noted. "There's no point in reducing price when you have low supply and high demand. Now that demand has caught up, they move the price into a more favorable condition, sell more Kindles, and sell more books and publications."
The Market and the Competition
Other e-book readers now on the market are still struggling to catch up with Amazon in terms of sales, with Sony's Reader the closest in terms of brand recognition, if not in revenue.
None of its competitors make it as easy to download content on-the-go as the Kindle does, both Howe and Enderle pointed out.
Sony is still playing catch-up in terms of content selection, added Enderle.
About 270,000 books are available for instant download directly to the Kindle, including many New York Times bestsellers, according to Amazon.
Plastic Logic is promising a bigger-screen reader, a la Amazon's Kindle DX, later this year, and bricks-and-mortar retailer Barnes & Noble is reportedly working on a device.
Indeed, larger screen sizes and form factors may raise the comfort level for consumers used to reading magazines and newspapers.
Even though Amazon so far hasn't been forced to fend off much competitive pressure, it isn't likely that the Kindle will take off like an iPod or iPhone, said Enderle.
"Amazon still doesn't have that Apple gene where you go out and make this product part of the zeitgeist," Enderle said. "That's hurting them a bit. They're not a marketing company. You would think they would be, given they're a retailer. But at this point, the Kindle remains the only product that has the back-end [support] required, and much like the competitors to the iPod, the other folks don't quite seem to get it."
Ultimately, in a down economy, the main competition for these devices is not other devices.
"It's paper," Howe said. "It's the original books. They're really good and they have 400 years of development and refinement behind them, and there's good technology for making them cheap. Electronic books need to add something. The Kindle makes it possible to carry lots of books at once, and connectivity makes the difference. But nobody's going to win if they go at it with the idea of, 'Let me give you a book and make it electronic.' They've got to add more."