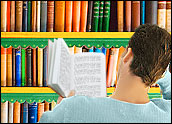 Google said Monday that it plans to build an e-book service to make electronic editions of mainstream titles available to consumers — whether they own a specialized e-book reader or not.
The service should roll out by the end of the year, Google spokesperson Gabriel Stricker told the E-Commerce Times.
The announcement immediately sparked discussion of Google targeting e-books kingpin Amazon.com and its Kindle reader, but it's too early to tell what impact the competing service might have on e-book sales, which currently account for between 1 percent and 3 percent of book sales, according to Michael Norris, senior analyst with market research firm Simba Information.
U.S. readers spent $24 billion on books in 2008, according to the American Association of Publishers.
Market Impact
Until Google announces details of revenue splits and digital rights management plans, it's impossible to say what impact the service may have on the segment.
However, it's almost surely to be a good thing for publishers — and consumers — to have more books available from more sources that can be read on more devices, Simba's Norris told the E-Commerce Times.
Only 8 percent of adults over the age of 18 have purchased an e-book, Simba researchers found. That is partly due to the fact that mainstream titles are often unavailable as e-books, Norris said, or tied to the Kindle hardware, which retails for US$359 through the Amazon.com Web site.
"I've used a Kindle, and it's a fine product," commented Norris, "but the thing it gets completely wrong — when you're talking about e-books from 30,000 feet — is it's aimed at the heaviest of the heavy readers. What the Google partnership means, potentially, is that books can be purchased to read on a myriad of devices."
Industry estimates suggest that 500,000 Kindle units may have been sold and that somewhere around 400,000 people may have purchased readers made by Sony, which has previously partnered with Google on e-book projects, Norris said.
However, some 10 percent to 20 percent of those who bought Sony's reader never registered their unit with the company's e-books store, Norris pointed out, which calls into question whether such consumers are interested in paying for e-books, or just downloading free content from the Web.
Casual Users
Being able to read books on a home computer, laptop or smartphone is essential flexibility for more casual readers, who make up the vast majority of the reading public, Norris said.
"Most book buyers are a pretty disengaged bunch, and they only buy a handful of books a year," he said.
Being able to buy an e-book and read it where and how they choose without a hefty hardware purchase is likely to stimulate sales, he observed.
Amazon.com's reaction to the Google announcement wasn't clear. The company didn't respond to e-mail inquiries to its press office in time for this article's deadline on Monday.
However, Norris said that it does not make sense for publishers to tie themselves to a single distribution channel — such as Kindle — that carries a significant hardware investment cost for would-be readers.
E-Book Standards
Google's move is likely to be good news for the international e-book standards movement championed by the International Digital Publishing Forum, noted Norris.
That organization didn't respond to inquiries in time for this story's deadline.
The announcement is not tied to Google's settlement of a lawsuit by publishers over its effort to scan print books and make excerpts available on line, Google's Stricker said — although in announcing the settlement, Google did promise a broad range of access options for books.
The final hearing in that lawsuit is scheduled for October.