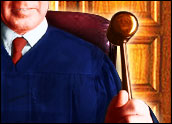 Microsoft thought five years of oversight was long enough, and states that had fought the software giant over alleged monopolistic practices thought five more years were in order.
Neither side got what it wanted. Colleen Kollar-Kotelly, a federal district judge in Seattle, ruled on Tuesday to extend the U.S. government's oversight of the company to Nov. 12, 2009 — two years beyond its original expiration date.
An antitrust case brought against the company by a cadre of 17 states resulted in a five-year oversight period, running from 2002 through last November. The period was extended to Jan. 31 pending Kollar-Kotelly's latest ruling. Ten states involved in the original complaint had filed a motion to extend the oversight until 2012.
A Pragmatic Decision
The judge's decision was a response not to any flagrant violations of the oversight order but to Microsoft's delays in filing technical documents to software licensees, she said.
"She was very pointed in saying, 'We're not sanctioning Microsoft,'" noted Yankee Group analyst Laura DiDio. "It's just because they were delayed on filing technical documents. So in that sense, it's a very pragmatic procedural move on her part. It satisfies all the conventions by doing it. She's being pragmatic but not oppressive."
One of the cruxes of the case was the way Microsoft offers its software. Plaintiffs commented that Microsoft requires its own technology to be bundled with hardware from certain computer manufacturers, virtually locking out rival software companies.
The decision isn't total vindication for Microsoft — but it's close, commented Michael Silver, a Gartner research vice president.
"I think when you're as large and dominant in certain areas as Microsoft is, you certainly have to expect that there's going to be some continued oversight at least a little longer," he said. "This is kind of a halfway point."
Setback for Plaintiffs
The additional five years of oversight that the 10 states — California and New York among them — sought would have been excessive, Silver said.
"Microsoft has been good at not allowing it to affect their business," he said. "I think they're more careful."
The 2002 settlement prevented Microsoft from cutting deals with computer manufacturers that would exclude rival software from those products.
"For certain technology rivals, [extending government antitrust oversight] makes a lot of sense because Microsoft still has a lot of power in the industry," Silver said.
In response to the ruling, Microsoft said Windows Vista, its next-generation operating system that followed Windows XP, was a response to the 2002 ruling.
The latest ruling isn't necessarily a defeat for Microsoft, DiDio said.
Actually, it could be a good thing for Microsoft," she said. "A lot of people thought Microsoft got off pretty easy in 2002. Go back to early 2000, leading to the final judgment, and people thought Microsoft was going to get split up. So, a lot of people thought they got off with no more than a slap on the wrist."
Rivals Can Take Comfort
For competitors, there is some solace as well, DiDio said. "There's a lingering perception that Microsoft has this predominant position in the marketplace and might abuse it, so this oversight might quell fears. They've been held to a standard."
Microsoft also has attracted antitrust investigations in Europe, although DiDio said concerns there are overstated. "I think the European Commission is over the line and ridiculous."
However, worldwide scrutiny can have some hidden benefits, DiDio said. "I don't think oversight is a bad thing. Any time you have a company with such a pervasive and strong presence in their core markets … I don't think the Microsoft executives would be stupid enough to try anything with the way everybody's looking on them."