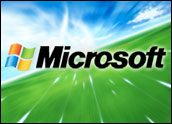 Microsoft posted an impressive quarter on Thursday, with Vista and Office sales setting the pace. The software giant also issued a strong outlook for the current quarter and all of 2008 — something many of its fellow tech companies have been unable to do.
Microsoft's earnings rose about 79 percent for the quarter that ended in December — its fiscal second quarter — and it boosted its outlook on strong demand from around the world for its operating system, productivity software and related products.
Earlier in the week, both Apple and eBay managed to post stronger-than-forecast earnings, but both saw their shares hammered by investors after they issued soft guidance looking ahead.
'Strong Underlying Growth'
Microsoft bucked the trend by raising full-year and fiscal third-quarter outlooks, saying it would bring in earnings of US$1.85 to $1.88 per share for the full year on $59.9 billion to $60.5 billion in revenue. Analysts were calling for earnings of $1.81 per share and $59.36 billion in sales.
"Although clearly the risk of an economic slowdown exists, we have not seen any significant spillover to our businesses," Chief Financial Office Chris Liddell said. "We continue to benefit from strong underlying growth in non-U.S. and emerging markets.
"No company is immune from macroeconomic factors, but overall we believe our business is extremely well positioned in the technology industry," he added.
Microsoft broke records for revenue, operating income and earnings per share in the second quarter. The company had revenue of $16.37 billion in the quarter, up 30 percent from a year ago. Net income was $4.7 billion, or 50 cents per share, up about 79 percent year-over-year. Analysts had predicted $15.95 billion in revenue and 46 cents per share, on average.
"We are benefiting from the investments we've made over recent years," Liddell said.
High on Vista
Microsoft shares were up 2 percent in early trading Friday to $33.95.
The company's online services business saw growth, thanks in part to its acquisition of interactive advertising firm aQuantive. Revenue from online ad sales increased 38 percent, and would have been up 26 percent without the aQuantive impact. That division remained in the red, however, and Liddell said it would continue to be a part of the business that is the focus of investment going forward.
Microsoft's entertainment and devices unit, which makes and sells the Xbox and Zune, saw sales rise 3 percent to $3.06 billion. The division, which had long been unprofitable, posted a profit of $357 million in the quarter. Xbox outsold the PlayStation 3 during the holiday period, Microsoft said, and third-party publishers are seeing strong demand for Xbox game titles.
Microsoft's enterprise sale and server divisions both had double-digit revenue growth. The Microsoft Business Division saw sales jump 23 percent thanks to new versions of Office, SharePoint and Exchange.
Generating Loyalty
Microsoft's Vista version of Windows was the star, however. Microsoft has sold about 100 million Vista licenses so far and that number could grow considerably during 2008 as businesses replace more servers and PCs and as companies become more comfortable with the platform, Ovum IT Research Vice President David Mitchell told the E-Commerce Times.
"By the end of the year, Vista could be running on half of the personal computers in the world," a level that should help put to rest any doubt about Microsoft's larger position in the market, Mitchell said. "For all the talk of total cost of ownership and advantages of Linux and other alternatives, the fact is Microsoft has done a great job of delivering products that generate loyalty."
Even as chief information officers weigh the options and the financial implications of adopting alternatives, they are comfortable with Microsoft's track record. The release of a service pack for Vista later this year should help convince many enterprises holding back on an upgrade to take the plunge, he added.
Better by Comparison
"Clearly they're in good financial shape," Enderle Group analyst Rob Enderle told the E-Commerce Times. While Microsoft had been seen as a mature, safe company while other tech firms were growing much faster, circumstances may help change that perception. "Over the last few years, much of their revenue has been almost institutionalized because it's built on large-scale enterprise agreements. On one hand, that means it doesn't change that much, but on the other hand, it means it may be relatively bulletproof when economic conditions change.
"The fact that they're managing their portfolio reasonably well might allow them to weather any intermediate economic storms," he added.
Microsoft's results should bode well for PC makers such as Dell and HP, both of which report next month.
Meanwhile, Microsoft executives are scheduled to meet with analysts next week, with Liddell saying the company would use the occasion to lay out future strategy. That road map will include the time frame during which cofounder Bill Gates plans to step back from day-to-day involvement with the company.
Enderle is not expecting any major surprises from that meeting, but expects Microsoft to try to focus attention on the ways it can outperform Google.
"They're increasingly being compared to Google and, as Yahoo knows, it's awful hard to be compared to Google," he noted. "They're not a direct competitor, and I expect them to talk about being a bit more aggressive in areas such as software as a service where they don't necessarily overlap with Google and try to differentiate themselves."