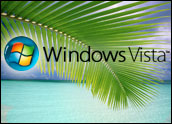 Another lawsuit against Microsoft reportedly has received the go-ahead to proceed. This time, a federal judge in Seattle approved a class action suit against the Redmond, Wash.-based software giant over alleged marketing claims that various computers labeled as "Vista Capable" actually were not suited to the new-generation operating system.
The suit says that some Windows XP-outfitted PCs that were certified by Microsoft as compatible with Vista actually didn't have the power to run anything beyond the most rudimentary Vista functions — specifically, the system's Aero user interface, according to published reports.
U.S. District Judge Marsha Pechman accepted the suit but limited it to Vista-labeled computers marketed during the 2006 holiday sales season, just before Microsoft launched its new Vista system early in 2007. The two plaintiffs in the case could pursue their accusation that Microsoft created demand and, therefore, higher prices, on units that could not accept full upgrades to the new OS that was headed for release, the judge said.
Not a Surprise
"This doesn't surprise me," Laura DiDio, a Yankee Group analyst, told the E-Commerce Times. "The issues with Vista incompatibility have been very well documented and publicized. People have been complaining about it very loudly, so I'm not surprised the judge would allow this to go forward."
The suit likely won't impact Microsoft much except, perhaps, as a lesson, said Rob Enderle, principal analyst with the Enderle Group.
"I think this showcases expectations that were missed at the front end with Vista," he told the E-Commerce Times. "Their big problem is getting this thing moving into the corporate level, and this (suit) involves consumers."
The lessons will be learned and implemented as the next operating system comes along, Enderle added. "I do think the company is going to rethink how they do Windows 7 (due out in 2010) — in terms of identifying what the product is going to be — when it comes out. The visible aspects of this product were wrapped around Aero, so making sure this problem doesn't happen again is what they'll make clear."
Not an Easy Case to Win
The judge's latest ruling is not "a particularly major or surprising development," Matt Rosoff, lead analyst with Directions on Microsoft, told the E-Commerce Times. "I doubt the suit will have any impact on Microsoft's plans for future versions of Windows. It might strengthen the plaintiffs' negotiating position. I expect the suit to be settled before it reaches trial." [*correction]
Winning the case would be tough, suggested DiDio. "When you say 'deceptive marketing practices,' the [plaintiffs] are going to have to prove willful and malicious intent. Microsoft will argue the product was Vista-capable."
Computer makers also know what their systems can and can't do. "The other thing you're talking about is the hardware manufacturers," DiDio added. "They'd also figure into this because one would think that Dell or whoever would have a very good idea from testing the machines themselves whether a machine could run Aero. But the complaint says many PCs were listed as Vista-capable and, with the Aero stuff, I'd say you have to have a pretty good idea going into it that you need 2 gigs (gigabytes) to run Aero. That interface, you know it's a big CPU-hog (central processing unit)."
It may come down to what "Vista Capable" means. "Obviously, the judge thinks this has enough merit that the suit can proceed, but you're getting into a very gray area here, when you say 'Vista Capable,'" DiDio commented. "I don't know. Certainly, I know, both as a consumer and as an analyst that you need a certain amount of memory and types of functionality in your hardware to run Vista. Now, what is confusing is the six different versions of Vista. But it's anybody's guess about what happens when this suit proceeds."
---
*ECT News Network editor's note:
The original publication of this article stated that Matt Rosoff, lead analyst with Directions on Microsoft, told the E-Commerce Times that the plaintiffs' case is weak. Rosoff neither said nor implied that the case is weak. We regret the error.
---