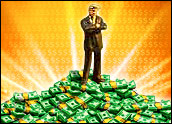 Spending on online advertising is expected to jump 20.2 percent over last year's spending, according to new figures from eMarketer. If this category of ad spend does indeed reach US$31.3 billion, as the company has projected, it will return to pre-recession growth levels and be accompanied by steady increases for the next four years.
By 2015, nearly $50 billion will be spent on online ads in the U.S., eMarketer predicted.
Search, which will continue to take the majority of ad dollars throughout the forecast period, is expected to reach $14.38 billion this year. Banners, with $7.61 billion projected for 2011, will represent nearly a quarter of online ad expenditures.
Online video, still a small category, is the fastest-growing of all online ad formats, eMarketer found. Worth $2.16 billion this year, video ad spending will become the third-largest online ad format by 2013.
There are many factors fueling the category's growth, eMarketer Principal Analyst David Hallerman told the E-Commerce Times, from the economic recovery to the wave after wave of new content being produced for the Web — to say nothing of the influence of social media sites such as Facebook.
"It has become almost a virtuous cycle," he remarked. "As content grows, the amount of impressions grow, pricing comes down, and at the same time there is better targeting. More ad forms are developed as a result, which attracts even more advertisers, which leads to more content."
Media Convergence
The explosion of online video content is just one example of this trend, said Dave Martin, SVP of media atIgnited.
"Consumers are watching their content whenever they want and are avoiding commercials whenever they can," he told the E-Commerce Times. "We're also seeing more "cable-cutters" than ever, switching their consumption to online or onto mobile devices like the iPad."
Quality Ads
Another reason for the growth, Martin continued, is the growing quality of the online ad formats.
"Whereas online historically has been perceived strictly as a direct-response medium, brand marketers are seeing bigger, better ads available to them, including :30 spots in front of Web content, that they believe can have an impact on the brand metrics that matter most to them — like awareness, intent, consideration and favorability, leading to bigger spending online by brand advertisers."
At the same time, online video inventory is quickly scaling, with incredibly effective targeting to narrow audience segments, he said.
Demand has also spawned greater innovation, including more dynamic ad-insertion, rich media and other evolving technologies, said Ronald Camhi, partner at Michelman & Robinson and chair of the firm's advertising, marketing and media department.
"The marketers understand that this will create a better user experience and better measurement, so the growth in this area will continue to increase," Camhi told the E-Commerce Times.
Display Overtaking Search
Among the most interesting of eMarketer's projections is its finding that display — a once moribund category of online ads — will overtake search as the largest online ad spending category by 2015. This year, display advertising will rise 24.5 percent to $12.3 billion, while search is expected to grow 19.8 percent, to $14.4 billion.
One reason for this is the growing sophistication of remarketing technologies, speculated Daniel Yomtobian, CEO and founder of Advertise.com.
"Remarketing is a vehicle to reach out to the customers that have already been to the site as well as reconvert them, therefore increasing online ad revenues," he explained to the E-Commerce Times. "With search, by comparison, marketers are limited to keyword targeting. With display and remarketing, the ability to know where your consumers are from and what they've been searching for in the recent past helps marketers target ads that are of greater interest to them."