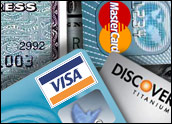 Isis, a mobile commerce venture that includes the U.S.' largest wireless providers, announced Tuesday that Visa, MasterCard and American Express will be partnering with the organization.
The agreement makes Isis, a joint venture between AT&T, Verizon and T-Mobile and supported by Discover at its start, the only mobile payment product that accepts all four major payment networks.
Competitor Google Wallet has a platform supported wireless carrier Sprint and supports payment from Citi, MasterCard and First Data.
MasterCard will continue a relationship with both Isis and Google Wallet.
Both programs would allow consumers to pay for goods and services with a wave of a phone that supports Near Field Communication (NFC) technology.
Technology is developed and in place for the service, but in very limited quantities. Sprint is the only wireless carrier with a phone, the Nexus S 4G, that is enabled right now.
Isis, which was announced last November, will not publicly launch until 2012, when it will do trial runs in Salt Lake City, Utah, and Austin, Texas. Google Wallet is running on a limited basis in New York and San Francisco.
Isis and the credit card companies involved did not respond to the E-Commerce Times' requests for further comment.
Needs More Elements
Securing major payment networks clears a major hurdle for Isis.
"Isis had to gain the support of all the major credit cards to gain legitimacy with merchants. The early holdup with credit card companies as to fee distribution was settled, no doubt to the benefit of the credit card companies. The carriers need the credit card companies to make Isis work," Tole Hart, senior analyst at the Yankee Group, told the E-Commerce Times.
While it's a step in the right direction for Isis, it's just one part of an entire system that needs to be in place for the mobile commerce start-up to catch on.
"Consolidation on the payment side is one step in the challenge, but you have to complete the ecosystem to survive," Avi Greengart, research director of consumer devices at Current Analyst, told the E-Commerce Times.
Having a payment network in place is futile if the other elements aren't in place.
"You need devices that work with NFC, and the single phone that does that is at Sprint and works with a totally different system. You also need the merchants, the payment terminals, and finally, arguably the most important or overlooked, is the consumer," said Greengart.
Although many predictions for the future of mobile commerce are entirely optimistic and foresee widespread use within a few years, some remain hesitant about the service. Just because technology is new and compelling, they say, doesn't necessarily mean it's unquestionably going to be something consumers will rush to adapt to.
"There's a reason predictions are so high, and that's because consumers are increasingly using smartphones. The notion that your phone can be a computer or camera is there, so that it could be a wallet doesn't seem like that big a stretch. From a behavioral perspective it doesn't seem like a stretch either, but you still need to give people a reason to do that," said Greengart.
Offering Incentives
Since consumers will most likely still be carrying around wallets for items like a personal ID or payment forms for merchants that don't accept mobile payments, incentives and promotions will be essential, at least at first, for reeling in consumers.
"Improved customer experience via targeted discounts and promotions and easy payments will go a long way toward making NFC a reality," said Hart.
"I've yet to see a compelling reason for customers to jump on board, but Google Wallet gets the closest. It's not the wallet that's the most interesting part of their program, but Google Offers, which gives them some actual reason to do this," said Greengart.
Until then, the business model may not be fully complete.
"This has always been technology that's just around the corner, but until you all the ducks up in a row, you have to hit every piece of the puzzle," said Greengart.