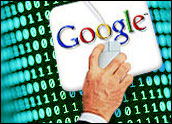 Google shares dropped nearly 5 percent in the wake of a report by research firm comScore that pointed to a flattening in clicks on the site's ads.
comScore reported flat year-to-year performance in Google's paid ad clicks for January — its 532 million clicks actually decreased 0.3 percent. This likely was the "primary catalyst" behind Google's most recent stock price fall, the research firm noted.
Google shares were up nearly 2 percent, at US$472, midday Wednesday on the Nasdaq stock exchange. However, the stock had fallen to $464.19 at the close of business Tuesday, down $283.05 from its 52-week high of $747.24, achieved Nov. 7.
Google did not respond to a request for comment.
Larger Context
So, Google's latest downturn is a reflection of a free fall in the U.S. economy? Not exactly.
Its troubles are nothing a little fiscal self-discipline wouldn't fix, according to Precursor analyst Scott Cleland, who follows the California-based search giant closely.
"First of all, there's this latest downturn, but you need to understand it in the larger context," Cleland told the E-Commerce Times.
The Economy's Impact
A number of analysts have tied Google's downturn to the slumping U.S. economy.
"I think there's a combination of factors here," Andrew Frank, an analyst with Gartner, told the E-Commece Times. "Clearly, there's the fact that markets tend to amplify news — good or bad. But there's also, I think, some interesting things happening in terms of the way the business is transitioning and the way Google is attempting to stay ahead of it."
One gambit Google is trying is de-emphasizing ads with lower profit potential. "If consumers are buying less and clicking less on Google links, then Google is going to have to find more sources of revenue, and I believe that will be larger advertisers switching from traditional channels like TV and print media," he added.
However, said external factors, such as the economy, aren't the real source of Google's travails. "In the second quarter, investors were very surprised at how many people Google hired," Cleland said. "Not only were they overspending in the summer, but they were pledging to spend in the third quarter."
Meanwhile, company sales and earnings were off-kilter. "They had good third-quarter earnings, but by the fourth quarter, revenues were up 51 percent but earnings were up only 17 percent. They broke earnings momentum," he noted.
Satisfying Ambitions
Most investors have a "momentum bias," which makes the stock attractive, Cleland commented. "That means, if your company is growing earnings on a consistent basis, investors want to own the stock. What happened in the fourth quarter is that they didn't maintain earnings momentum. They overspent 50 percent revenue growth — that's really hard to do. So, Google has a rap that it's earned that it has no control on its spending because it has world imperial ambitions. The bottom line here is, investors have figured out that Google is not being run to reward shareholders but to satisfy the ambitions of its founders."
Nevertheless, Google remains the dominant company within the online advertising industry, "with healthy growth prospects" that likely will lead to increased market share, Bear Stearns said in a note.
However, don't count out the economy as a factor, Clayton Moran, a Stanford Group analyst, told the E-Commerce Times. "We believe the economy slowing is reducing the rate at which consumers search and buy online and thus is having a negative impact on Google."
Generating ads isn't a Google-specific problem. "[Google's] growth rate is decelerating. Given that Google's stock has been a highflier driven by momentum, this recent shift in operating momentum has had a dramatic impact on the stock price," he added. "We think Google remains in a strong position but that its stock is unlikely to reward investors in the near term."