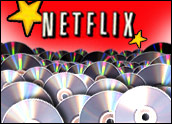 The price war between movie rental companies Blockbuster and Netflix continued Sunday when Netflix slashed by US$1 the price of two DVD rental subscription plans.
The $1 reduction will benefit most of Netflix's 6 million customers because it affects two of its most popular rental packages, Netflix said. The price cut will lure many prospective customers to sign up, the company predicted.
Investors reacted quickly, sending the company's stock down by more than 10 percent out of the gate. In mid-day trading, Netflix's stock was off 10.44 percent, or $2.05 per share, at $17.58.
Blockbuster last month reduced the price on its DVD rental packages to make them cheaper than those offered by Netflix.
How Low Can They Go?
Netflix said it is now charging $8.99 per month, instead of $9.99 for the plan that allows customers to have one DVD out at a time. The plan also allows customers to watch nine hours of movies and television programming on their home computers.
The company also said it is now charging $16.99 per month for the plan that allows users to have three movies at a time, a package that formerly cost $17.99 monthly. The arrangement allows customers to watch 17 hours of movies and TV series on their PCs.
"The $4.99 and $13.99 monthly plans remain unchanged as their prices were already reduced from $5.99 in February and $14.99 in June, respectively," said Netflix. "Positive subscriber reaction to lowering the $14.99 plan to $13.99 for unlimited DVD rental with two discs out at a time was an important factor in today's price reductions."
Fighting for Convenience, Too
While Netflix pioneered the business of renting DVDs over the Internet, Blockbuster followed suit and upped the ante in November when it introduced Total Access, a program that allows customers to order discs online and trade them for new ones at their local Blockbuster store. However, Netflix, not Blockbuster, is offering streaming movie and TV show content as part of its rental packages.
As the two companies duke it out, something they can ill afford — competition from other businesses — continues to mount. Movie Gallery CEO Joe Malugen has announced an online DVD rental plan and reports have suggested Apple is also eying the idea as a means to supplement its iTunes Store movie download service.
No Choice in the Matter
While Netflix is trying to spin its price cut as being a part of its customer satisfaction efforts, Tom Adams, president and senior analyst at Adams Media Research, said the company really had no choice.
"Blockbuster had great success launching Total Access, with the ability to swap movies at the store rather than just through the mail," Adams told the E-Commerce Times. "When your competition has proven, by adding a feature, that he's going to get a lot of subscriptions — and there's not an equivalent feature you can add — the next option is a price cut. To compete you've got to be cheaper,F so it's sort of the logical next move for Netflix."
It's difficult to predict whether Netflix will be able to make money with the current pricing. "Obviously, it gets harder every time you cut your prices, but we are still early enough in the game. The main battle is not over profitability but to lock up subscribers," Adams said.
Prepping for the Future
Blockbuster is "in a fight for survival" while Netflix is mainly trying to keep happy its current subscribers, Inside Digital Media founder Phil Leigh told the E-Commerce Times.
"I think Netflix, when it comes out the other side, will have sustained its subscriber base," he said. "Ultimately, they want a subscriber base focused on getting content delivered via the Internet … Netflix wants to be the leading factor in that business."
There has been "a sharp acceleration" in the number of DVDs rented through subscription in the first half of 2007, NPD analyst Russ Crupnick told the E-Commerce Times.
This 32 percent increase was "no doubt driven by Blockbuster's aggressive support and introduction" of Total Access, he said.
Loyalty Reward
"Fundamentally people don't usually switch services for a dollar, so this so-called price war may be doing nothing more than rewarding already loyal customers," said Crupnick. "People will choose on service, selection, convenience and overall value, assuming the relative prices are reasonably comparable."
The No. 1 challenge facing Netflix is to "get more people on the subscription bandwagon, and then to retain them, Crupnick said.
Pricing might be of minimal help in doing that, "but it's really about connecting people with the benefits of the subscription business model," he said. Aspects such as downloads are interesting to some today and may become more important in the future. However, consumers have to see the value of the core "by mail" subscription model or they're unlikely to participate.