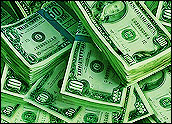 With a few notable exceptions — the Internet, primarily — advertising spending has declined for the second quarter in a row, according to a report released Tuesday from TNS Media Intelligence.
Total advertising expenditures in the first half of 2007 slipped by 0.3 percent to US$72.59 billion versus the same period in 2006, TNS found. The outlook for the remainder of the year is not much better, it predicted.
"For the first time since 2001, media advertising expenditures have declined for two consecutive quarters," said Steven Fredericks, president and CEO of TNS Media Intelligence.
"While the protracted downturn in automotive spending has been a prime contributor, the overall results reflect weakness across a wide range of industries and advertisers," he added. "Given the uncertainties about near-term economic growth and consumer spending, we expect core ad spending will continue to face challenges during the second half of the year."
Unequal Fortunes
While the across-the-board numbers were bleak, there was tremendous variation among media. Internet display advertising remained at the head of the pack, registering a 17.7 percent increase to $5.52 billion in expenditures, TNS said.
Consumer magazines didn't do too badly either, with a 6.9 percent gain to $11.5 billion in advertising. Outdoor expenditures were up 3.6 percent to $1.9 billion, while cable TV followed with a 2.8 percent increase to $8.38 billion.
Broadcast TV media, on the other hand, were less fortunate. Network TV expenditures fell 3.6 percent to $11.84 billion, while ad spending on spot TV dropped 5.4 percent to $7.29 billion. Syndication TV was down 5.3 percent to $2 billion.
Heading Online
The story was roughly the same for newspaper and radio, which also recorded increasing losses. Ad spending on local newspapers plunged 5.7 percent to $11.09 billion in the first half of 2007 on a reduction of 4.7 percent in space sold. Radio advertising fell by 2.7 percent, to a total of $5.14 billion.
Shares of total spending were also particularly divergent, TNS found. Whereas Internet display advertising accounted for 6.4 percent of total spending a year ago, the recent data shows it has increased to 7.6 percent. Magazines rose 0.9 percent to 20 percent of ad spending, while newspapers slipped a full percent to 17.8 percent. National and local TV each lost share but still accounted for a combined 43.6 percent of all expenditures, TNS said.
Looking at advertisers, the top 10 spent a combined total of $9.0 billion in the first half of 2007, down 2.2 percent from last year. Their spending did increase slightly from the first to the second quarter, however. AT&T and Verizon came in at second and third place, respectively, in the top 10. Time Warner was No. 6, Sprint Nextel was No. 8, and Walt Disney was No. 9, according to TNS.
Changing Habits
"The Internet has momentum vs. traditional media because audiences have shifted and the ad dollars are just starting to catch up to those audiences — especially agency and brand dollars, which are slower to move," Greg Sterling, founder of Sterling Market Intelligence, told the E-Commerce Times.
Internet media are also more "accountable," Sterling noted, which can be particularly important during times of budget constraints.
Consumers' changing media habits may be the most important factor of all, however, reflected in recent data indicating that the Internet ranks on par with TV in terms of overall time spent, Sterling noted.
"The thing that trumps all of the myriad issues here is that the audience, especially younger audiences, have embraced the Internet as a primary medium, in some cases at the expense of traditional media," he explained.
Growing Up Fast
Whether Internet ad spending will continue on its upward trend is another question.
"I would caution anyone in Internet advertising against getting too cocky about this," Andrew Frank, research vice president with Gartner, told the E-Commerce Times.
"Internet ad spending is still catching up with consumer media usage, so growth continues to be almost inevitable," he noted. "Someday soon, though, the Internet will be a mature medium like the others and subject to the same economic volatility that has frequently characterized the general advertising business, as marketing budgets tend to be among the most discretionary sectors of corporate spending."