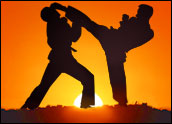 Intel's and Advanced Micro Devices' often-rocky relationship is teetering on the brink of open warfare. In a filing with the Securities and Exchange Commission, Intel has accused AMD of breaching terms the two companies forged in a cross-licensing agreement dating back to 2001.
Intel has charged AMD with violating the agreement by forming Globalfoundries, a semiconductor manufacturing joint venture with Abu Dhabi-based Advanced Technology Investment Co.
Intel has threatened to revoke its cross-licensing agreement with AMD unless its concerns are addressed. Specifically, it believes that AMD is unlawfully transferring Intel's intellectual property to the joint venture.
AMD needs Intel's consent before it "unilaterally" extends its licensing rights to a third party, Bruce Sewell, Intel general counsel, says in a statement.
Material Breach
In its own SEC filing, AMD both denies the accusations and accuses Intel of failing to follow the procedures for resolving disputes established in the cross license. Indeed, AMD is showing no sign of backing down.
AMD further maintains that Intel's attempt to terminate its rights and licenses under the agreement is itself a material breach of the cross license and, as such, gives AMD the right to terminate Intel's rights and licenses under the agreement while retaining its own.
Intel's complaint centers on Globalfoundries' ownership structure.
The contract provisions in the cross license allow a subsidiary of AMD to use the technology under certain conditions, Ray Van Dyke, a technology lawyer with Merchant & Gould, told the E-Commerce Times.
However, Intel is arguing that AMD owns a majority stake in this JV, he continued. So "Intel cries foul and avers AMD's breach of the agreement."
The terms of the JV, according to the joint announcement last October, include Mubadala Development Co. increasing its current investment in AMD to 19.3 percent on a fully diluted basis. AMD will contribute its manufacturing facilities, including two fabrication facilities in Dresden, Germany, as well as related assets and intellectual property rights.
ATIC will invest US$2.1 billion to purchase its stake in the company, of which it will invest $1.4 billion directly in the new entity. The remainder will be paid to AMD to purchase additional shares. Globalfoundries will also assume approximately $1.2 billion of AMD's existing debt.
ATIC has committed additional equity funding to the JV of a minimum of $3.6 billion and up to $6 billion over the next five years to fund the expansion of Globalfoundaries chip-making capacity beyond the manufacturing facilities initially contributed by AMD.
Behind AMD's Response
AMD's response to Intel's accusations is its way of applying pressure on its competitor, Van Dyke commented.
"The questions are whether AMD's zeal for cash has trodden on this longtime arrangement between the two archcompetitors, and whether Intel's contract interpretation is sound," he explained. "Naturally, the question of latent antitrust concerns has surfaced also. Should this impasse not be resolved soon, expect some significant litigation above and beyond the mediation requirement set forth in the license."
Intel Rattling Its Saber?
Intel is not above some saber rattling in its relationship with AMD, Charles King, principal of Pund-IT, told the E-Commerce Times. "This could just be a wake-up call to AMD. You very often see this type of activity between companies that are going head to head on one side but then cooperating with one another on another on the other."
The read-between-the-lines message that Intel may be trying to send, King speculated, is that Intel will not renew its cross-license agreement, which is scheduled to run out in 2010, if AMD becomes overly competitive.
Other Wrinkles
There may also be other issues at play behind the scenes, Chris Collins, an attorney with Vanderpool, Frostick & Nishanian, told the E-Commerce Times.
Cross-licensing agreements tend to specific particular markets, particular applications of the technology or pricing structures, he explained. Their end goal is often to avoid competitive disputes that could play out in public. If there is a brewing issue between the firms, he said, Intel may have decided it was more cost effective to handle it in this manner.