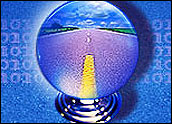 Intel has adjusted its guidance for the third quarter, saying that revenue will fall within the US$6.3 billion to $6.9 billion range it previously provided. However, the company narrowed that range, aiming toward the lower end.
"Intel expects revenue to be slightly below the midpoint" of the original range, Paul Otellini, the company's president and chief operating officer, told analysts during a conference call. Otellini said he feels "very good" about Intel's prospects of hitting the new range of $6.3 billion to $6.7 billion when the company's third-quarter financials are eventually released.
Back-to-School Uncertainty
However, Otellini acknowledged that the numbers could change, particularly because the company cannot gauge upcoming September figures. Traditionally, he said, the back-to-school month of September has been the third quarter's most stellar period, accounting for the biggest sales boost.
But in the last year, as the economy has continued to slide, other companies have not seen expected seasonal upticks in sales. Therefore, Otellini predicted that back-to-school figures across the board this year will be "less than people expected, but I don't think it's going to be as poor as looking only at retail would indicate."
He said he believes back-to-school numbers should take into account more than just retail figures, with direct PC sales added to the mix.
Mostly on Target
Intel's microprocessor unit sales "are trending toward the lower end of the normal seasonal pattern," Otellini noted. He added that "flash [memory] is in line with expectations," but said "demand for other communications products remains soft."
Intel expects its gross margins to come in on target, "give or take a few points," with the 51 percent estimate that it previously predicted, Otellini said, and expenses are in line with July estimates.
For full-year 2002, Intel predicted that gross margins will fall into the 51 percent range, up from the 49 percent reported in 2001. Research and development should total $4 billion, an increase from the $3.8 billion logged last year.
Lackluster Q2
Intel's second-quarter results were lower than expected. Earlier this year, the company reported Q2 revenue of $6.3 billion and net income of $446 million, with results down 52 percent from the first quarter.
At the same time, Intel also announced plans to cut its workforce by about 4,000 employees in the second half of 2002. The company said the cuts would be made "primarily through attrition, voluntary separation programs and some targeted business disinvestments."
The company blamed "continued uncertainty in global economic conditions" for its poor showing and predicted cuts in R&D and lower margins.
"Although an overall industry recovery has been slow to materialize, we still expect a modest seasonal increase in demand in the second half," Intel CEO Craig Barrett said at the time.
Hit Hard
Both the semiconductor and PC markets where Intel has a presence have been hit particularly hard by the sluggish economy. Chipmakers have dropped their prices in an effort to boost demand, but their efforts have been mostly futile.
IDC analyst Shane Rau told the E-Commerce Times that "overall, we forecast fairly flat growth" in the semiconductor market. According to IDC figures issued in April, the market should grow just 1.3 percent in 2002.
The first half of the year was the slowest, with a slight uptick expected in the third and fourth quarters as the market responds to seasonal demand.img src="http://www.ecommercetimes.com/images/end-nfn.gif" width=21 height=10 border=0>