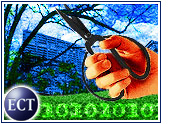 Intel has announced, unsurprisingly, that it is withdrawing from the Web hosting business.
The chipmaker said it will shut down the business unit and take a US$100 million charge in its second fiscal quarter.
The company launched its Web hosting effort, Intel Online Services, in 1999, as dot-com fever swept the high-tech industry and anyone with a half-formed idea could reap dollars from overly generous venture capitalists. The company sought to broaden its horizons within the industry.
But Intel's plan never caught on to the degree that company executives had hoped;indeed, the Web hosting sector was hit hard as dot-coms bombed in rapid succession. The last two years have seen once superstar companies — such as Exodus Communications, which filed for bankruptcy — struggling to stay afloat.
Back to Basics
With no economic recovery in sight and with its own financials to consider, Intel has taken a step back to basics, focusing on its microprocessor business, which generates about 80 percent of the company's revenue.
Intel wounded Wall Street's recovery hopes recently by lowering its earnings forecast. The company predicted its second-quarter revenue would total $6.5 billion, rather than the $6.4 billion to $7 billion it projected last spring.
In a conference call, Intel chief financial officer Andy Bryant blamed the revised forecast on stagnant user demand. Bryant explained that although demand orders are on track in some divisions and up in others, such as the back-to-school arena, this does not represent a "surge" in orders.
Financial Surprise
News of the altered guidance sent Intel stock down 10 percent to $24.18. The company's shares already had dropped 4.2 percent, to $27, earlier that day.
Intel also noted that its gross profit margin would be 49 percent for the quarter, well below the 53 percent it predicted in April.
The revised forecast came as something of a surprise to analysts, who had been heartened by Intel's positive first-quarter results. A modest 2.2 percent year-over-year revenue gain in the first quarter of 2002 — to $6.8 billion — seemed to indicate that the market was creeping slowly out of decline.
While IDC research analyst Alan Promisel said that Intel's first quarter numbers did not represent a rebound, he did tell the E-Commerce Times that it was "a barometer for some growth."
Dipping Chips
Aberdeen Group chief research officer Peter Kastner, who said Intel has been producing chips this year at a "ferocious" rate, told the E-Commerce Times that price cuts and aggressive production schedules mean PC makers can install faster, higher-performance chips in computers for the same cost.
Now, to counter the effects of lower-than-expected revenue and to stimulate demand, Intel might slash chip prices even further.
Intel's news that its Web hosting business would soon disappear sent shares down 2.4 percent, or 54 cents, to $22.02. This year, Intel stock has dropped 28 percent.
The company plans to manage Web hosting services for its customers for another 12 months as they make the transition to other hosting providers. Employees working in the division will be shifted to Intel's IT support sector.