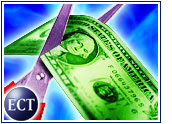 Intel wounded Wall Street's hopes for recovery Thursday by lowering its forecast after market close. The company said its second-quarter revenue should total US$6.5 billion, rather than the $6.4 billion to $7 billion projected earlier this spring.
News of the altered guidance sent Intel stock down 10 percent to $24.18. Shares had dropped 4.2 percent, to $27, earlier in the day.
In a conference call, Intel chief financial officer Andy Bryant blamed the revised forecast on stagnant user demand. Bryant explained that although demand orders are on track in some divisions and up in others, such as the back-to-school arena, this does not represent "a surge" in orders.
Intel also noted that its gross profit margin will be 49 percent for the quarter, well below the 53 percent it predicted in April.
The revised forecast came as something of a surprise to analysts, who had beenheartened by Intel's positive first-quarter results.
Promising First Quarter
Intel's modest 2.2 percent year-over-year revenue gain — to $6.8 billion — in the first quarter of 2002 seemed to indicate that the market was creeping slowly out of decline.
The company's net income in that quarter grew 86 percent sequentially and 93 percent year-over-year, to $936 million.
"Is this a rebound? No," IDC research analyst Alan Promisel told the E-Commerce Times when the results were released. "But it is a barometer for some growth."
Intel is recovering from dismal showings last year and the year before. In a conference call at the time of the Q1 earnings report, CFO Bryant acknowledged that the revenue boost was "the first year-over-year increase in four quarters."
Tough Climb
But even the mostly positive first-quarter numbers arguably demonstrate how tough the climb has been for the chipmaker. Despite the year-over-year increase, the revenue figure also represents a 3 percent drop in sequential revenue.
"[These numbers] are the very beginning for [Intel's] starting to climb out of the hole," Promisel said.
Intel attributed its slight revenue gains in the first quarter to growth in its architecture business, according to Bryant. The company saw architecture revenue rise 5 percent from the year-ago first quarter to $2.8 billion — flat with the fourth quarter of 2001.
Changing Its Tune
Now that it has revised its forecast for the second quarter, Intel has changed its earlier stance. When it reported first-quarter earnings, the chipmaker touted its ability to weather the economic decline where others had failed.
Patrick Ward, a spokesperson for Intel's plant in Hudson, Massachusetts, commented at the time that the company had avoided widespread layoffs during 2001.
And company CEO Craig Barrett boasted, "There are relatively few companies in this industry that can afford to go forward on a standalone basis. Intel is uniquely positioned in that respect."
How Low Can You Go?
Earlier, the company aggressively slashed prices of its Pentium 4 chips in an effort to clear the way for its speed king, the 2.4 GHz chip. An even faster Pentium 4 chip bowed in May.
Intel lowered the price of its Pentium 2.2 GHz chip to $423 — a 25 percent drop from its previous price of $562. The company also discounted its 1.9 GHz chip by 7 percent and its 2 GHz chip by 23 percent.
Notebook chip prices were cut as well. Prices of the company's Pentium 3 mobile chips — including the 866, 850 and 800 MHz models — dropped by an average of 22 percent.
Aberdeen Group chief research officer Peter Kastner, who said Intel has been producing chips this year at a "ferocious" rate, told the E-Commerce Times that price cuts and aggressive production schedules mean PC makers can install faster, higher-performance chips in computers for the same cost.
Now, to counter the effects of lower-than-expected revenue and to stimulate demand, Intel may slash chip prices even further.