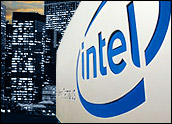 Intel investors received a double whammy of both good and possibly bad news regarding the world's largest chipmaker on Tuesday. Intel's quarterly profits topped analyst estimates by 3 US cents. However, the company's guidance for the upcoming quarter was less than what many in the market had been expecting. Worse, according to news reports, it appears as though European antitrust regulators may be gearing up to pursue Intel.
First, the good news. Despite the drop in global prices for chips, Intel registered a 25 percent increase in net income, to $1.6 billion, compared with the same period last year. Net revenue rose 9.4 percent to $9.47 billion — again, topping analysts' expectation of $9.32 billion for the quarter.
Demand in the global market will carry the company for some time, the company said. "As we enter the second half, demand remains strong for our microprocessor and chipset products in all segments and all parts of the globe," CEO Paul Otellini commented.
Stock Up
The stock was trading up 26 cents late in the day as a result, Frederic Ruffy, the senior options strategist at WhatsTrading.com, a New York-based provider of options market analysis, told the E-Commerce Times. The shares closed Wednesday at $20.91, up 20 cents.
"The strong results helped the entire technology sector as it bodes well for other companies, including makers of semiconductors, computers and servers," he noted.
Still, the chipmaker's in-line guidance for the third quarter kept a lid on what should have been a market rally in Intel shares, he continued. Intel expects third-quarter revenues of $10 billion to $10.6 billion, Ruffy said, compared with analyst estimates of $10.07 billion. "Some investors might have been hoping for more optimistic guidance for the third quarter."
A Psychological Factor
Global trends, both good and bad, are going Intel's way, Charles King, principal with Pund-IT research, told the E-Commerce Times.
One is that prices for PCs and notebooks continue to drop. "In a tight economy, if you can deliver powerful computing products for cheaper and cheaper prices, that will put you in a relatively strong position."
There is also a psychological factor at play, he continued — namely that companies tend to buy from established vendors when times are hard. "If you are pinching pennies, you tend to stick with the proven products and vendors."
Antitrust Issues
However, Intel has more to worry about than just market trends. The company, already under fire on multiple regulatory fronts, may find itself facing new charges of antitrust violations, perhaps as early as Wednesday, according to an account in The Wall Street Journal.
Intel has been under investigation by the European Commission for several years. However the Commission reportedly is considering new charges against the chipmaker, alleging that it has offered discounts and rebates to retailers that agree not to stock products made by AMD, its main rival.
Intel said it doesn't know anything about the new charges.
"Our position is that there is an open investigation by the EC, based on issues that were first raised in February this year," Chuck Mulloy, a spokesperson for the company, told the E-Commerce Times. There is also a Statement of Objections pending before the EC, he noted, to which the company has replied.
The open investigation on the part of the EC involves the question of whether retailers were induced to avoid AMD products. "But we have no knowledge of anything that might happen today [or] tomorrow, and we have not received any word from the Commission," he said.
Other regulatory bodies interested in Intel include the New York state attorney general's office and those of South Korea and Japan, where Intel recently settled a case on similar charges.