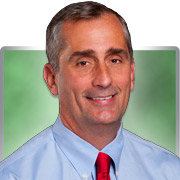 In his first meeting with investors since taking over as Intel's chief executive officer in May, Brian Krzanich presented a road map for the company's future.
Intel will make a stronger push into mobile devices, expand its foundry business to build processors for other chip makers, and move into additional new markets, Krzanich indicated last week.
Lagging Behind
Intel has lagged behind competitors such as Qualcomm in the smartphone and tablet spaces.
"We were in denial of tablets, that put us in a hole, and we're paying the price for that," Chairman Andy Bryant admitted.
"Obviously, some of the company's core PC market has been under increasing pressure recently and it doesn't appear that pressure is going to let up anytime soon," Charles King, principal analyst for Pund-IT, told the E-Commerce Times. "So I think it's critical for Intel to broaden its market focus. Smartphones and tablets are areas where I think, over time, the company should be able to capture sales volumes it needs to continue moving forward."
Mobile Driving Everything
"PCs are no longer driving the direction of the industry," Jim McGregor, principal analyst at Tirias Research, told the E-Commerce Times.
"Mobile devices, particularly smartphones, are driving the industry. By driving, I mean everything from the semiconductor manufacturing technology to the silicon IP and designs to platform requirements to software and even services and business models," he explained.
"Mobile devices are the innovation platform for the entire electronics value chain. If Intel is left out of the mobile segment, they move from that leadership position to more of a follower, much like Motorola, IBM, Nokia, and many other tech companies that once drove the industry," McGregor said.
Many mobile manufacturers have opted for chips using designs licensed from ARM Holdings. While Intel will stick with its x86 design — the standard for processors in personal computers — for chips it develops in-house, it will build chips based on ARM designs for other companies. For instance, it has a deal to build processors with ARM technology for Altera.
Biggest Fish
One of Intel's strategies for a bigger push into smartphones involves focusing on contracts with the largest smartphone manufacturers rather than trying to permeate through the whole market. Additionally, Intel plans to take a chip with an ARM processor and replace it with the company's own hardware. That processor, called "SoFIA," is targeted for release in the latter half of 2014 for entry-level smartphones and tablets.
Krzanich also touched on the next generation of Atom chips, the company's processor for mobile devices. The chip, bearing the codename "Broxton," will have a new upgradable core. Broxton is aimed at high-end mobile devices and will debut in mid-2015. With SoFIA and Broxton, Intel is attempting to bring Atom to parity with Core, its desktop processor line.
Yet Intel is likely to struggle to gain a foothold in the mobile market at this point.
Next Focus
"The market has already reached critical mass, and Intel solutions are not part of those solutions. … Intel continues to make strides in making more efficient products and has won some design wins, but has failed to gain significant market share, much like Microsoft, which also missed the inflection point," Tirias Research's McGregor observed.
"This is a case where a tech leader missed a major market inflection point for many reasons and likely will never regain that leadership position with this generation of technology," he said. "What Intel needs to do now is focus on the next major market inflection point, which is likely IoT/IoE (Internet of Things/Internet of Everything)."
Indeed, Intel earlier this month announced a new group focusing on the IoT market.
The company's plans also include taking Intel processors into tablets priced at the sub-US$100 level. Processors for tablets will offer higher performance and better battery life, and tablet chip shipments will quadruple next year to 40 million, Krzanich predicted.
Intel PCs Running Chrome
Intel now will allow manufacturers to build PCs that are intended for operating systems other than Microsoft's Windows, Intel's long-term partner in the PC space. Instead, manufacturers will have the choice of building systems that use Windows, Android or Chrome.
That will allow manufacturers to ship machines without needing to load the OS until right before they are sold, Krzanich said, giving companies a reduction in costs. Meanwhile, manufacturers will have the option of shipping systems with multiple operating systems and letting customers switch as they please.
Lower Costs
Also in the PC space, convertible devices — those that can work in clamshell or tablet mode — and even detachable systems will soon reach the market priced at as little as $299, Krzanich suggested. Lower PC prices could help increase demand for Intel processors.
While the decline in PC sales is easing, according to Krzanich, the company still forecasts a slight drop in that business next year. That should be offset by growth in other areas, but it contributes to projections of flat revenue for 2014.
Gesture Control
Krzanich revealed Intel's process technology plans to make parts as small as 10 nanometers in transistor size within two years, compared with the 22-nanometer-size parts it makes now.
The company is placing focus on bringing features like gesture control and voice recognition to devices next year, he also said.
Intel appears revitalized as a focused company, no longer content to rely on its dominance in the waning PC market, but with that shifting focus comes fresh challenges.
"Competing in today's market is completely different than it was in PCs," McGregor noted. "You need to have a broader IP portfolio, which Intel is working on; focus on flexible designs tailored to the customers, not just standard products; put power efficiency above performance, which the company is now doing; build a complementary ecosystem, something Intel has shifted away from as it gained a dominating position; and react to the market changes quickly, which is very hard for a large company to do."