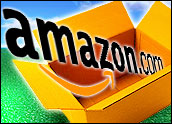 Amazon is ramping up its drone delivery project and is hoping for Federal Aviation Administration approval to conduct outdoor testing on its own property.
The company has petitioned the FAA for an exemption from rules barring it from testing the devices.
Amazon last year revealed it was working on a project that would allow it to deliver small packages to consumers within 30 minutes of ordering via the unmanned aerial vehicles. The project, called "Amazon Prime Air," has been criticized as a gimmick, but the company seems intent on forging ahead with the plan.
Drones could greatly speed up delivery times and give Amazon a strong competitive advantage.However, the company needs regulatory approval for the use of commercial drones before the project can come to fruition.
Commercial Limitations
"Current FAA rules allow hobbyists and manufacturers of model aircraft wide latitude in flying their sUAS [small unmanned aircraft systems] outdoors," Mary Osako, a spokesperson for Amazon, told the E-Commerce Times. "Because Amazon is a commercial enterprise, we have been limited to conducting R&D flights indoors or in other countries."
Renowned roboticists, scientists, aeronautical engineers and remote sensing experts are involved in the project, as well as a former NASA astronaut, Amazon's letter to the FAA notes.
Amazon is working with the eighth and ninth versions of its drones, which can reach a top speed of 50 miles per hour and carry packages weighing up to five pounds. That weight limit covers 86 percent of products Amazon sells.
Geofencing Safety Measure
The company is asking the FAA to let it carry out extensive testing on company property, under the direction of a licensed pilot or someone who at least has passed FAA-required testing for pilots.
The tests would be carried out in the U.S., and there would be a number of safety measures in place, such as geofenced barriers preventing the drones from staying active outside a physical zone.
Outdoor commercial drone tests currently can take place only at one of six FAA-approved sites in the U.S.
'In Public Interest'
"Of course, Amazon would prefer to keep the focus, jobs and investment of this important research and development initiative in the United States by conducting private research and development operations outdoors near Seattle," Amazon's Osako said.
"Granting Amazon an exemption to allow R&D testing outdoors in the United States is in the public interest because it advances Congress's goal of getting commercial sUAS flying in the United States safely and soon. It is a necessary step towards realizing the consumer benefits of Amazon Prime Air, which will deliver packages to customers in 30 minutes or less," she explained.
"We're continuing to work with the FAA to meet Congress's goal of getting drones flying commercially in America safely and soon," Osako added. "We want to do more R&D close to home."
The drones Amazon plans to test weigh no more than 55 pounds and will fly no more than 400 feet above the ground.
It's not clear what the range of the current drones is, but the company's chief executive, Jeff Bezos, said in December that drones at the time had a range of 10 miles from fulfillment centers and ran on electric motors.
FAA Guidelines
A judge earlier this year ruled that the FAA's rules on commercial drones actually were just guidelines, since they were not drafted through the formal rulemaking process. Consequently, the policy notices the FAA used to ban commercial drones were not enactable.
The FAA may be concerned with safety with regard to drones, an issue that reared its head this week when a New York Police Department helicopter had a close encounter with a drone. Police arrested the two men who were flying the device, but they claimed the helicopter actually had chased the drone and that they had not recklessly endangered the helicopter.
"At one level, the company's request seems quite reasonable," Charles King, principal at Pund-IT, told the E-Commerce Times.
"After all, hobbyists can and do operate drones in unrestricted airspace, so why can't Amazon? But at the same time, the company's approach to drones is more ambitious and, many would say, considerably riskier than those flown by hobbyists who keep them in line of sight," he observed.
"Add in some recent unfortunate incidents involving hobbyist drones — like the one that struck/injured a triathlete in April — plus growing concerns about drones and privacy invasion, and the FAA could decide that denying Amazon's petition is the smart thing to do," King said.
Delivery Partners
If Amazon can satisfy any safety concerns the FAA might have, it may give the company a new fulfillment option that can get products in the hands of consumers or delivery partners much more quickly.
"If Amazon's drones actually take off — pun intended — they could be offered as a same-day delivery option for a wide variety of products," Pund-IT's King noted. "That said, it seems unlikely that drones could be used for direct deliveries in cities and other dense urban areas. But they could complement Amazon's interactions with existing shipping partners, say, to expedite delivery of specific items to UPS or USPS sites."
"Drones are a sticky issue at the moment, with many municipalities putting their own restrictions on drones," said Jim McGregor, principal at Tirias Research.
"I'm not sure if the FAA will consider this request, but they should. It would be much better to work through the sticky issues with drones with a company like Amazon that is open to the process and willing to abide by rules. Otherwise, the drone situation is just going to become a mess. Whether you like them or not, drones are here and the use of them is only likely to expand," he told the E-Commerce Times.
"Now, using drones as a delivery method is an entirely different subject," McGregor continued. "I'm not sure that delivery is the most practical application for drones at this time, but you have to give Amazon credit for its ingenuity and persistence."