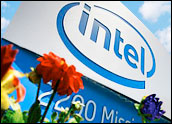 In a bold move, chip giant Intel announced Tuesday that it will invest US$7 billion in its U.S. manufacturing facilities even as the semiconductor industry and the overall economy continue to spiral downward.
Intel President and CEO Paul Otellini made the announcement in a speech before the Economy Club in Washington, D.C.
The news comes just weeks after Intel announced it would cut as many as 6,000 jobs through the closure of older manufacturing facilities in the U.S. and Asia.
The company reported dismal fourth-quarter financial results last month. Earnings at Intel dropped 90 percent year-over-year to $234 million, while revenue dropped 23 percent year-over-year to $8.2 billion.
Intel's stock was down 4.16 percent to $14.29 per share in mid-day trading on Tuesday.
Job Loss Offsets
"In the face of a large technology downturn, you don't save your way out of a recession, you invest your way out of one," Chuck Mulloy, an Intel spokesperson, told the E-Commerce Times. "We did this during the dot-com bubble. If we stop investing in new manufacturing and technologies, we will fall further and further behind in the global economic environment."
Intel's investment will be made at existing manufacturing facilities in Oregon, Arizona and New Mexico. The investment will also support about 7,000 jobs at Intel and should offset some of the job losses that will result as older manufacturing facilities in Asia and the U.S. are closed.
"Not all those people will lose those jobs," Mulloy said. "In many cases, we are moving people from those older factories to newer factories. We don't expect we'll be able to place all the employees from those older factories, but this investment enables us to place some of them."
32nm Chip Technology
The lion's share of the $7 billion investment is earmarked for upgrading Intel facilities used for manufacturing 32-nanometer chips. A nanometer is a billionth of a meter.
For years, the semiconductor industry has sought to produce smaller and smaller chips.
"There's a shorter distance that electrons have to travel on smaller chips," said Robert Burleson, an equity analyst with Canaccord Adams. "They do so more efficiently when the channels they run in are smaller. There's a performance benefit — but there is also a yield enhancement for the factories, where if you can fit more transistors in the same space, you can fit more chips on a wafer."
However, there's an initial hit on yield because the technology is new, and the kinks have to be worked out, Burleson told the E-Commerce Times.
"It's as healthy as any new [manufacturing] process we've ever created." Intel's Mulloy said of the 32nm fabrication process. "When it goes into production this year, we will launch it into mainstream products such as laptops and PCs. In order to meet that goal, we need to invest in our fab plants now, and that's what we're doing."
Wall Street Reaction
"This is a surprise," Burleson said, "given the climate, with everyone ratcheting down their spending. … [But] it's a cyclical industry. When business returns to normal levels, [Intel] wants to have the right capacity in place."
Although Intel's stock was down just a little more than 4 percent in mid-day trading, Burleson cautioned against associating the decrease in value with Intel's investment announcement.
"I don't think it's cap ex concerns hitting Intel's shares right now," he said. "Semiconductors have led a rally in technology lately. There was an expectation that Q1 guidance would be awful, and it was. Many investors probably felt that was the worst it could get, which caused the chip stocks to rise. Now, the market may be giving back some of those gains."