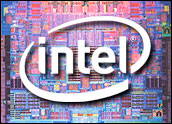 Chip giant Intel announced Wednesday that it will shutter four of its semiconductor factories and lay off as many as 6,000 employees by the end of 2009.
The news follows on the heels of media speculation that Intel could suffer its first quarterly loss since Q4 of 1986. Intel said last week that it earned US$234 million during the fourth quarter, a 90 percent decline in profit compared to the same period in 2007.
As part of the restructuring, Intel will close existing assembly test facilities in Penang, Malaysia, and Cavite, Philippines; the Fab 20 plant in Hillsboro, Ore.; and the D2 wafer production operation in Santa Clara, Calif.
The factory closures and job cuts were part of continuing efforts to align manufacturing capacity to current market conditions, the company said.
Intel's stock was down 3.77 percent to $12.77 per share in late-day trading on Thursday.
Weak PC and Laptop Demand
The chief culprit behind Intel's moves to cut back on production and costs is a pronounced falloff in demand for PCs and laptops powered by Intel chips, Betsy Van Hees, vice president of equity research at Caris & Company, told the E-Commerce Times.
"It's something we were looking for the company to do, so we were encouraged — as tough as it is on the management to make the decision and the employees who are losing their jobs," she said.
However, the restructuring moves "indicate that things are much worse than the company had anticipated," Van Hees continued, "given the fact that they announced earnings a week ago and they didn't make this known at the time."
First Quarter Could Be Rough
Intel didn't provide any official guidance to Wall Street when it announced its fourth-quarter financial results last week. However, the company did tell analysts that it expects to produce about $7 billion worth of semiconductors, Van Hees said.
"But that's what they're building — not what they'll eventually sell," she pointed out. "The [first quarter] is going to be pretty close. We have Intel earning 1 cent per share and bringing in revenue of $6.7 billion. Gross margins could be affected if they have to do an inventory write-down."
The question is, will the first quarter be the trough or will Intel sink even lower later in 2009?
"There are two camps on Wall Street; [one is] saying the worst is behind them and Q1 will be a disaster, and that's as bad as it gets," Adam Benjamin, managing director of research at Jefferies & Co., told the E-Commerce Times. "I'm in the other camp."
The other camp believes that this could be the beginning of a long and gradual decline in Intel's earnings power as the company continues along its evolution into a mature business.
In prior downturns, Intel could count on high growth in the desktop and laptop markets to bring it out of a downturn, Benjamin said, but deeper penetration in those markets will have a deleterious effect on Intel going forward.
The price of semiconductors has also fallen in the last year, with the debut of low-end laptops called "netbooks," some of which run on relatively cheap Intel chips. The net effect is that consumers are beginning to show that they aren't willing to spend as much on an inexpensive laptop when they can get a netbook at an even cheaper price, he said.