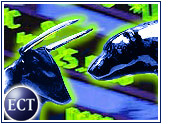 The technology earnings season got off to a mixed start in a single report, with leading chipmaker Intel reporting a fourth-quarter profit that beat Wall Street expectations, but also adopting a largely conservative outlook for 2003.
Santa Clara, California-based Intel said net income in the quarter was US$1 billion, almost double fourth-quarter 2001 levels of $504 million. Sales revenue totaled $7.2 billion, up from $7 billion.
Hold the Phone
Before the positive news had a chance to settle, however, Intel promptly waved a cautionary flag, saying that normal seasonal swings likely will result in slower first-quarter sales, and adding that it intends to be conservative about a full recovery by curtailing capital expenses throughout 2003.
Intel said it will spend $3.3 billion to $3.9 billion on capital outlays this year, down sharply from the $4.7 billion it spent in 2002, and an even bigger cutback than analysts had expected.
That move likely will have a ripple effect on the high-tech industry because many companies, such as equipment maker Applied Materials, rely on investment from big chipmakers. Indeed, the stock market reacted negatively to the news, with the Dow declining 120 points and the Nasdaq shedding 20 points in early trading Wednesday. Intel shares were down only slightly to $17.52. Shares of chipmaking equipment providers were also falling.
"We're trying to manage the company very cautiously, keeping spending flat to down," Intel chief financial officer Andy Bryant said in a conference call.
Mother of Invention
Morgan Stanley analyst Mark Edelstone told the E-Commerce Times that Intel has been able to improve its internal cost structure so much during the current chip slump that it is poised to benefit from any increase in demand. But rival AMD announced a sweeping deal with IBM last week to develop next-generation processors, ratcheting up the level of competition and indicating that Intel also must continue to invest in future products.
"They've been very conservative, but have to also remain ready to react when demand does pick up," Edelstone said. "The message this time out seems to be that they're not expecting that change to occur in the near term."
Watching for Uptick
Edelstone and other analysts are wondering if corporate demand for PCs will rise this year in the wake of Microsoft's decision to phase out support for older versions of its operating system software.
However, Intel president Paul Otellini said in the conference call that it is too soon to determine if the chipmaker will receive a boost from that move. He did note that Intel replaced some of its own internal desktop computers in response to Microsoft's announcement.
Otellini also added that market demand for PC microprocessors was fairly strong in the fourth quarter, typically a robust period. "It's not exactly anemic out there," he said, noting that Intel had a record quarter in terms of microprocessor shipments. Although all categories were solid, demand for chips that power PDAs and other mobile devices, as well as servers, was especially strong.
Just in Case
Otellini said Intel's capital expenditure plan reflects its uncertainty about 2003 — particularly the later part of the year. "We're ready for whatever comes at us in terms of the economic environment," he explained.
In December, AMD raised its fourth-quarter outlook in the face of higher-than-expected demand, particularly for flash memory chips and other processors used in mobile devices. The first quarter has been a relatively slack environment for sales, however, with Otellini saying Intel has booked lower Q1 sales than in nine of the last 10 years.