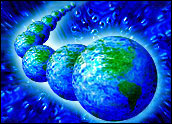 The Semiconductor Industry Association (SIA), a trade group that counts Intel and AMD among its members, has announced that global sales of semiconductors increased just 1.9 percent to US$12.51 billion in November compared with October levels. The slow growth rate, which bucks the usual holiday spending trend, signals that the semiconductor industry is still struggling to overcome its worst-ever slump in 2001.
Indeed, though somewhat lackluster, the latest sales total represents a 19.6 percent increase from November 2001 sales of $10.6 billion.
Holiday Sales Provide Little Cheer
Sluggish consumer holiday spending is partially to blame for slowNovember growth, according to the SIA. Such spending typically lifts fourth-quarter electronics and semiconductor sales.
"Holiday sales this year were below expectations," World Semiconductor Trade Statistics Americas vice chairman Bill Jewell told the E-Commerce Times. "I don't think we'll see even the normal seasonality we see in the fourth quarter and December."
Wireless Benefits All
Still, there are some positive signs. SIA president George Scalise said sales of wireless chips continue to drive upward momentum. "The November sales of the global chip industry underscores the healthy recovery that has been building momentum throughout this year," he noted.
Indeed, worldwide chip sales have seen a steady, slow climb this year as the industry digs out of last year's pit. October chip sales grew 1.8 percent toUS$12.5 billion compared with September of this year.
Sales of flash memory and digital signal processors, both used in mobile phones, also benefited from healthy wireless chip sales, with increases of 6.6percent and 3.7 percent, respectively, in November.
In addition, the SIA pointed to a .5 percent increase in microprocessor sales and 5.8percent growth in DRAM revenue as a sign that the PC sector is gaining momentum.
Recovery on Horizon
A semiconductor recovery is still anticipated for 2003, said Jewell, whoestimated that growth could range between 15 and 20 percent worldwide, primarily in the wireless, flash and digital signal processor sectors.
"Overall, 2 percent month-over-month is good, and the book-to-bill ratio forNovember was looking better than it has been in a bit," Aberdeen Group chiefresearch officer Peter Kastner told the E-Commerce Times. "It's still a singledata point, and Aberdeen's view is that there is no sign of a globalsemiconductor turnaround yet."
But Kastner said he remains hopeful for the second half of 2003, noting that much of the anticipated recovery will depend on global economic and political forces, including the possibility that the United States may fight a war.
Sales in America Slow
Semiconductor sales in the Americas declined .8 percent in November to$2.63 billion, while sales in Japan decreased .6 percent to $2.83 billion.
The SIA noted that the strongest areas are Europe, which saw a 5.8 percent jump to $2.6 billion, and Asia-Pacific, which recorded a 1.3 percent increase to $4.62 billion.
Since last year, sales in the United States and Canada have been slow, with just a 5 percent increase recorded in the period. At the same time, the Asia-Pacific region has seen 33.5 percent growth, Japan 21.9 percent and Europe 12.2 percent.