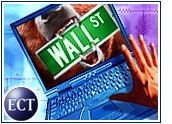 Intel on Tuesday announced earnings of $686 million, missing analysts' estimates, and said the usually robust fourth quarter likely will prove a disappointment as well. Despite its earnings shortfall, the company did hit revenue targets for the quarter.
The mixed news from the world's largest maker of microchips abruptly halted what had been a buoyant run on Wall Street. Positive earnings reports from Yahoo! and others had helped propel stocks upward for four straight days. But Intel's missed forecast, along with talk of a continued tech spending slump and an announcement that Intel will further reduce its capital spending budget — a decision analysts said could have a ripple effect on other tech companies — helped spark a sell-off.
Intel shares were down 15 percent to US$13.98 in early trading Wednesday, helping to drag down the Nasdaq nearly 3 percent. The market also was digesting an analyst report suggesting that Sun Microsystems is preparing to lay off another 8,000 workers.
Hit and Miss
Intel's third-quarter revenue was $6.5 billion, meeting analysts' target. The company's profit of $686 million, or 10 cents per share, was an improvement over the same quarter in 2001, when it earned $106 million on revenue of $6.55 billion. Even so, earnings missed analysts' estimates by 2 cents per share.
Intel said it saw fewer cost savings than expected, though it remains on track to carry out the 4,000 job cuts announced in July by the end of December. The company said that by year's end, its headcount will be down 11,000 worldwide from its peak in mid-2000.
"Manufacturing cost savings anticipated in September did not materialize," executive vice president Andy Bryant said in a conference call.
Growth Prospects
And the bad news does not end there. The fourth quarter, normally among the busiest for the chipmaker, also is shaping up to fall short, according to Bryant. "We see [a] possibility of modest growth in the fourth quarter as the pace of economic recovery continues to define our outlook," he said.
In terms of specific business divisions, Intel said it saw sequential growth within its wireless chip group but continued weakness in networking products as telecommunications companies remained on the sidelines.
Analysts are not forecasting a strong rebound until sometime in 2003 at the earliest. Intel acknowledged that a seasonal spike in PC chip sales during the back-to-school season did not reach typical levels this year.
"The PC market remains flat, and telecommunications investment is stalled out," IDC analyst Shane Rau told the E-Commerce Times. "There's really nothing to indicate any real sharp gains in semiconductor growth in the next several months."
Ruling Weighed
Meanwhile, Intel said that details about the impact of last week's adverse ruling in a long-running patent dispute over Itanium chip technology will be contained in its quarterly report, to be filed in early November.
A Texas judge ordered Intel to pay $150 million to Intergraph, and the company could face another $100 million in licensing fees if the ruling stands. Intel said it probably will capitalize the award if it does not prevail on appeal.
"The ruling is not expected to have a material effect on operating results," Bryant noted.