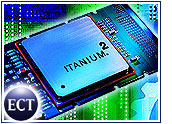 A federal judge has ruled that Intel's (Nasdaq: INTC) Itanium chip line infringes a smaller company's patented technology and has ordered the chipmaker to pay US$150 million in damages.
Texas-based Judge T. John Ward said Intel's Itanium and Itanium 2 chips "literally infringe" on patents held by Intergraph (Nasdaq: INGR). He ordered Intel to pay $150 million in damages and set the stage for possible additional payments.
Under terms of the ruling and an earlier agreement between the two companies, Intel can appeal the ruling, drop the technology in question or pay Intergraph another $100 million as a one-time licensing fee. If it were to lose an appeal, Intel also would have to pay the $100 million additional fee.
Intel issued a statement early Friday saying it will ask the judge to reconsider his ruling. If the ruling is not altered, Intel said, it will appeal the case to a higher court.
"The accounting impact of this ruling will be addressed when the company announces its third-quarter results on October 15th," Intel said. A company spokesperson could not be reached for additional comment.
Picking on PIC
The technology in question is a patent for so-called parallel-instruction computing, or PIC. That technology is at the core of Intel's Itanium and Itanium 2 line of chips, the latter of which was introduced just months ago and touted as the next-generation engine for servers powering e-commerce.
The dispute between Intergraph and Intel actually began in 1997, when Huntsville, Alabama-based Intergraph charged that Intel's products violated several patents it held. Earlier this year, Intel agreed to pay Intergraph $300 million to license its Clipper technology and all other patents that Intergraph lands before 2012.
That settlement excluded PIC technology and also limited the damages Intergraph could receive as the PIC case moved forward.
Worth the Money?
Ironically, Intel's high hopes for its Itanium line have not been realized. The company planned to boost its profile in the high-end server market with the products, but the Itanium 2 chip was released to a lukewarm reception in July after the first version saw sluggish sales.
HP has already released a line of Itanium 2-based products, but Forrester Research principal analyst Carl Howe told the E-Commerce Times that extensive changes required to run the processors will likely prevent widespread adoption in today's chilly IT spending climate.
"Nobody is eager to convert to a new computer architecture in this environment," Howe said. "Companies are focusing on making what they have already on the shelf work better."
Come and Get It
For its part, Intergraph will use the ruling as the go-ahead to begin widespread licensing of its technology, according to company CEO and chairman Jim Taylor. In fact, even as it hailed the ruling, Intergraph announced that Fujitsu had signed a long-term licensing agreement.
"This ruling validates Intergraph's patents," Taylor said in a statement. Calls to Intergraph were not immediately returned.
Word of the ruling came late Thursday. In early trading Friday, Intel shares were trading a fraction of a percent higher at $14.35. Intergraph stock was trading up nearly 10 percent at $18.44.