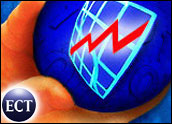 After two extremely difficult years, things are finally looking up for the global semiconductor industry. Two industry forecasts released this week indicate chip sales will increase, with the recovery beginning this year.
One of the forecasting firms, Gartner Dataquest, predicted the chip market will post 2002 revenue of US$153.3 billion, a .5 percent increase over last year, when the industry was hit hard. In 2001, worldwide semiconductor revenue totaled $152.2 billion, a 32 percent decline from 2000.
And there are better times ahead. Gartner forecast the chip industry will see double-digit growth of 12.1 percent in 2003, with sales totaling $171.8 billion.
"2003 is forecast to be a transition year, as a phased recovery in end markets gradually works its way back to fuel incremental semiconductor sales growth," said Richard Gordon, principal analyst in Gartner Dataquest's semiconductor research group.
2002 Meets Expectations
Gordon said the chip market recovery of 2002 is going as expected, with strong sales in the first half and weaker growth in the second half of the year. "Although semiconductor sales in the third quarter of 2002 held up reasonably well, benefiting from a degree of seasonal strength, that strength has not carried forward into the fourth quarter and highlights the poor state of electronic equipment production," he said.
However, according to Gartner Dataquest, while PC unit production growth has stalled this year, a corporate PC replacement cycle is becoming overdue and cannot be put off much longer.
Feeling Chipper
The Semiconductor Industry Association also released a positive forecast for the chip market, projecting an industry recovery with double-digit growth over the next two years. In fact, SIA's chip sales forecast is even rosier than Gartner's. The association expects global chip sales to increase 1.8 percent this year, followed by a 19.8 percent year-over-year jump in 2003.
AMD chairman W.J. Sanders III presented the forecast Wednesday at an SIA event in San Jose, California. "The long-awaited recovery is under way," he said. "We believe the next several years will see steady growth following the industry's steepest-ever decline in 2001."
Slower Long-Term Growth
However, although SIA predicted continued rapid growth of 21.7 percent in 2004, it said the curve will flatten after that. Compound annual growth rates of 8 to 10 percent will be the norm over the long term. "This will represent a sea change for our industry. We can no longer count on the proverbial [tide] that lifts all boats," Sanders noted.
Lehman Brothers semiconductor analyst Dan Niles told the E-Commerce Times that the SIA forecast for next year may prove to be too optimistic. "I think the numbers might be a little aggressive, but I think that things are getting better for next year," he added, predicting a more modest figure of 13 to 15 percent growth in chip revenue in 2003.
Asia Bright Spot
SIA's forecast included details about regional semiconductor markets. It predicted Asia will continue to be a bright spot as more manufacturing activity continues to shift to the region.
In 2001, according to the association, chip consumption in Asia accounted for 29 percent of worldwide sales. It predicted that number will jump to 37 percent this year, representing the largest one-year shift in consumption patterns in history.