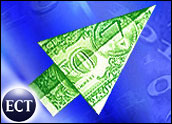 Buoyed by stronger-than-expected flash memory sales, number two semiconductor manufacturer AMD has raised its fourth-quarter sales forecast by 15 percent.
The Sunnyvale, California-based company said it is on track to book sales of US$700 million in the fourth quarter. Such a result would represent an increase of nearly 35 percent over third-quarter sales of $508 million.AMD said it originally had anticipated just a 20 percent increase.
Why the Increase?
The company credited sales of its flash memory products, particularly for high-end mobile phones with color screens and Internet access, withboosting revenue. Flash memory is used to store fixed information in such devices as cell phones, PDAs, digital cameras and game consoles.
Sales in AMD's PC processor line also have risen, the company said, as a result of holiday sales and a more competitive market of feature-enhanced PCs.
"We believe we have a more competitive product mix and a richer product mix, and the combination of those things is reflecting in the increase in our expectations for the quarter," AMD spokesperson Morris Denton told the E-Commerce Times.
AMD will report fourth-quarter results on January 16th.
Easy Hurdle?
Jeremy Lopez, a stock analyst at Morningstar.com, told the E-Commerce Times that although AMD's announcement is a significant step toward profitability, the company may have set the bar fairly low after this year's poor second and third-quarter results.
"It could be a case where they were really conservative because they didn't want to disappoint Wall Street again," said Lopez. "That's been a big thing — they've disappointed for a couple of quarters now."
Flash Memory Supports
Of all semiconductor products, flash memory holds the most promise for spurring an industry-wide recovery, as well as boosting AMD's bottom line.
"The thing that is really helping them, and I think it's often overlooked by investors, is that a large portion of their sales come from flash memory chips," Lopez said. "And the market for that has improved quite a bit." Specifically, flash memory sales represented 37 percent of AMD's third-quarter revenue, according to Lopez.
He said recent news that Intel will raise flash memory prices in the first quarter of 2003 is an encouraging sign of increased market demand. Should such higher pricing take hold, AMD's margins could benefit as well.
"The big question there is how sustainable it is," Lopez said. "There's a big ramp-up to get those phones out there. Pretty much all of the carriers unveiled that service at about the same time, so the market has been flooded with these handsets."
Cost-Cutting Continues
AMD's news comes on the heels of its announcement last month that 2,000 employees worldwide, or 15 percent of its workforce, will be laid off as the company attempts to break even in the coming year.
The company said it must reduce expenses by $350 million by the second half of 2003, and that it will take a restructuring charge of "several hundred million" as a result of the layoffs.
The reductions are being divided equally between AMD's Sunnyvale headquarters, its Austin, Texas, office and its European and Asian facilities, Denton said in an earlier interview.
Internally, cuts are spread across all departments and all levels, he added.