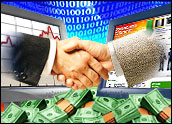 Rival chip companies Intel and Advanced Micro Devices have forged an agreement to settle their legal conflicts. AMD has agreed to drop its litigation against Intel. In exchange, Intel will pay AMD US$1.25 billion and promise to follow certain business rules as the two continue to compete head to head. The deal includes a five-year cross-license renewal.
AMD has complained about Intel's anticompetitive market practices for years. The tensions between the two companies verged on open warfare at times, with AMD launching three lawsuits against Intel.
Earlier this year, Intel accused AMD of violating their cross-license agreement by forming a semiconductor manufacturing joint venture, Globalfoundries, with Abu Dhabi-based Advanced Technology Investment.
The European Union has weighed in as well, levying a whopping $1.5 billion fine against Intel, alleging that the chipmaker paid computer manufacturers to delay or cancel orders for machines incorporating AMD chips.
Despite the settlement, Intel's troubles are not over: It is still under investigation by a number of antitrust regulatory authorities, including the Federal Trade Commission and the New York attorney general's office.
Won't Stop the Bleeding
It is unlikely the agreement between Intel and AMD will influence these investigations, Boston University School of Management finance professor Michael Salinger told the E-Commerce Times.
"Antitrust laws are meant to protect consumers, not competitors," he pointed out "so the fact that two competitors have settled their differences won't matter to the FTC."
The FTC might have another reason to push its investigation, Salinger suggested: "My guess is that it will use the case to explore the boundaries of Section 5 of the FTC Act."
There has been much debate about what provisions are covered under Section 5 of the FTC Act compared to the other major antitrust laws, such as the Clayton Act and the Sherman Act, which are more clear cut, he explained. "Some of the FTC's commissioners have been interested in that topic, so it is possible the agency is looking for an opportunity to bring such a case under Section 5 if there is a case to be made."
Who Wins?
Even if all regulatory investigations were to cease against Intel, AMD would still be the clear financial and psychological winner of this battle.
The companies had become distracted by the continued legal fights, they acknowledged in a statement; the agreement will allow them to focus their efforts on product innovation and development.
Despite the now-level playing field established under the agreement, however, AMD's development and market expansion activities will likely be hampered for some time, CEO Dirk Meyer hinted in a conference call.
Because the settlement between AMB and Intel is private, with only a few provisions publicly revealed, it is difficult to assess what benefits will accrue to each party, Richard B. Brosnick, an antitrust attorney and shareholder in Butzel Long, told the E-Commerce Times.
"If the settlement agreement is like most settlement agreements, it will affect any cooperation AMD is giving the investigations — although, of course, it can always be subpoenaed," he noted.
Though admittedly speculating, Brosnick thought it was "safe to assume that AMD was assisting in the investigations of Intel behind the scenes."
Industry dynamics being what they are now, both companies are likely to have been relieved to settle, Raymond Van Dyke, an attorney with Merchant & Gould, told the E-Commerce Times.
"The downward trends in PC prices, as well as the microprocessors that drive them, have driven this settlement — as well as the need for certainty," he said.
AMD "can use the money to pay down their debt, making their stockholders happy," Van Dyke added, and "finally spin off the manufacturing side of the business, Globalfoundries."
Intel, for its part, will be able to concentrate on the ongoing investigations, he said.