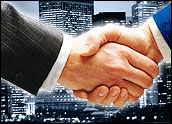 A behemoth on the semiconductor scene just got a little bigger. Chip manufacturer LSI has acquired the hard disk drive business of Germany-based Infineon Technologies for an undisclosed amount.
The buyout, announced Monday, came a little less than a year after the former LSI Logic acquired Agere Systems in what one analyst called "a merger of equals" to form LSI.
Key Inlet to Hitachi
The new acquisition provides Milpitas, Calif.-based LSI with a key inlet into hard drive manufacturer Hitachi Global Storage Technologies, LSI officials said.
"Through the addition of the Infineon HDD business, LSI has taken another significant step toward becoming the leading worldwide provider of silicon solutions for hard-disk drive makers," said Ruediger Stroh, executive vice president and general manager for LSI's Storage Peripherals Group. "We expect the acquisition to immediately accelerate revenue with a top-tier customer, Hitachi Global Storage Technologies, while enhancing our competitive position in the desktop and enterprise space."
LSI will receive the assets and intellectual property of Infineon's hard disk drive business, which includes product designs and software, inventory and test equipment. LSI also will enter into additional agreements with Infineon, including intellectual property, design services, transition services and supply agreements.
"It's a pretty clean acquisition," Suji De Silva, an analyst with Kaufman Brothers, told the E-Commerce Times. "Infineon had a smaller [hard disk] business, and LSI was helping to drive consolidation."
Good Follow-Up to Agere Acquisition
It's an ideal complement to last year's acquisition of Agere, De Silva said. "This is kind of continuing that trend toward consolidation."
Raymond James analyst Hans Mosesmann agreed. "I think if you look at it, they made a very ambitious merger about a year ago, and that made them the big 800-pound gorilla as it relates to storage semiconductors. The one area they weren't able to really penetrate was Hitachi."
Infineon's strong ties with Hitachi remedied that situation, he told the E-Commerce Times. "Infineon's relationship with Hitachi has been very good." For its part, Infineon is shedding a noncore asset.
"The sale of our HDD business is yet another step towards our overall commitment to streamlining our business activities to focus on our core markets," said Sandro Cerato, vice president and general manager of Infineon's ASIC (application-specific integrated circuit) design and security business unit. "In LSI, we have found an excellent company with a mutual interest in supporting our customer base. Infineon is fully committed to work with LSI to provide a seamless transition."
The deal, which is subject to regulatory approval, is scheduled to close within 60 days.
Good Move for Infineon?
The sale makes sense for Infineon, which wants to sharpen its own focus, Mosesmann noted. "Infineon has a highly diversified semiconductor company. They have other strategic thrusts, including wireless handsets. It makes sense for them to take this property and sell it. And LSI gets a lot of intellectual property and positioning with Hitachi, which they never had before."
LSI shares were trading at US$5.04 at midday on the New York Stock Exchange. The stock had a 52-week range of $3.75, which it reached Jan. 22, and $10.68, which it hit April 2 — the day the Agere acquisition was announced.
Infineon shares had fallen 2.29 percent to $7.24 — their low point for the year — from Friday's closing price of $7.41 on the New York Stock Exchange. The stock had peaked at $18.74 on July 13.
LSI likely is finished shopping for any major acquisitions for the immediate future, Mosesmann concluded. "I don't think they're going to be doing any big acquisitions like Agere, [but] you might see some software acquisitions."