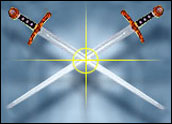 Facebook accused Yahoo of violating 10 of its patents Tuesday, a response to a similar suit Yahoo filed just under a month ago.
The two Internet competitors are embroiled in a patent duel that started last month, when Yahoo sued Facebook for 10 counts of patent infringement. The litigation came at a particularly delicate time for Facebook — it's IPO is expected in a matter of weeks.
Yahoo critics called the action an opportunistic bid to pressure Facebook into a fast settlement. Yahoo employed what appeared to be a similar strategy in patent litigation against Google as the search giant was preparing to go public in 2004.
But in this instance, Facebook has fired back with its own suit. The social network claims that Yahoo has infringed on 10 of its patents covering display advertising, tagging, photo sharing and and content optimization. Facebook argued that the patents in question support 80 percent of Yahoo's revenue from last year, or more than US$4 billion.
Facebook recently made moves to protect itself against patent litigation. Compared to tech powerhouses such as HP or Microsoft, Facebook has a relatively tiny patent portfolio. In its recent IPO filing, the company stated it had 56 issued patents and had filed for another 500. Facebook attempted to bolster that portfolio late last month when it acquired 750 patents from IBM, according to a report from Bloomberg.
Long Battle Ahead
Facebook's countersuit against Yahoo could mean the companies are in for a long slog.
"It's going to be drawn out. This kind of strategy has been pursued over the last 20 years or so in the tech world," Glenn Trost, patent attorney at Connolly Bove told the E-Commerce Times. "This is a patent-intensive environment, where there are a lot of advancements and a lot of patents, and companies have concluded that having patents is beneficial when they're used offensively and defensively."
Facebook's move to countersue is a defensive one, and Trost said it's all about making sure each company faces the same resource drain that happens in most patent suits. A defendant has to provide potentially costly information, such as financial statements and detailed patent information.
Now that Facebook has countersued and demanded similar information from Yahoo, then, the sides become more balanced. That doesn't speed up the process, though.
"Facebook is coming in and leveling the playing field," said Trost. "Now, Yahoo has to face the same burdens. This kind of war can go on for awhile. Ultimately, most of these cases settle at some point, but that might not be anytime soon."
Growing Tensions
When Yahoo originally hit Facebook with its lawsuit, the social network stated that it was puzzled by Yahoo's decision. The two companies have a working relationship.
"Yahoo and Facebook just signed a contract to work together," Brendan Lillis, patent attorney at Kloss, Stenger and LoTempio, told the E-Commerce Times. "With Facebook you can now track what news your friends are currently reading, and since that, Yahoo's traffic has tripled."
The suit suggests the tension between the two companies is growing, and it's possible the litigation is a direct result of that increased friction, said Trost.
"A patent suit really is an attack," he said. "It's a direct attack on profit margins, and a direct attack on business. It's unusual for parties that have a good relationship to get into patent battles of this nature."
How deeply this patent litigation will hurt the partnership between the companies remains to be seen, but Facebook's actions Tuesday show it's not going down without a fight.
"A patent portfolio is a tool, and Facebook is saying two can play that game," said Trost.
Neither Facebook nor Yahoo responded to our requests for comment on the story.