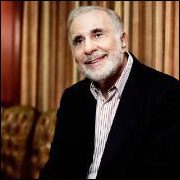 Carl Icahn has ratcheted up his efforts to get eBay to spin off its lucrative PayPal division. The billionaire investor on Monday sent an open letter to other shareholders accusing eBay board members Marc Andreessen and Scott Cook of placing their interests before those of investors.
Icahn called out Andreessen's involvement in the group that acquired a 70 percent stake in Skype from eBay prior to its highly profitable sale to Microsoft. There had been discussions of eBay spinning off that unit in an initial public offering.
"One cannot help but wonder what happened to Mr. Andreessen's fiduciary responsibility to share his feelings with [eBay Chief Executive John] Donahoe and the board rather than pre-empt the planned IPO to further his own interests," he wrote.
Donahoe wasn't spared from his diatribe; Icahn wrote that he is either "completely asleep or, even worse, either nave or willingly blind to lapses by the board."
What Icahn Wants
In addition to spinning off PayPal, Icahn, who currently owns roughly 2 percent of eBay stock, wants to be able to fill two seats on the eBay board. His argument is that eBay is not a well-run company and that PayPal is the real driver of its growth. Spinning off the online payment processor would reap a huge premium, Icahn maintains.
There is something — perhaps a great deal — to Icahn's argument. PayPal accounted for 41 percent of eBay's total revenue in the fourth quarter of 2013. His demand has received support from former PayPal executives, including cofounder Elon Musk and former COO David Sacks, both of whom have told reporters that they think the division should be independent.
Icahn's Track Record
Icahn has been on the losing side of a number of recent campaigns. He worked relentlessly to stymie Michael Dell from rebuilding his computer business as a private company, admitting defeat only after being rebuffed several times and finally being presented with an independent study that found greater value could be derived for shareholders from Dell's proposal.
"Given his history, one might suspect that Carl Icahn's critique of eBay was another example of his swashbuckling style as a raider," David Cadden, a professor of entrepreneurship and strategy at Quinnipiac University, told the E-Commerce Times.
"However, this time his assault on Andreessen, Cook and CEO Donahue may have more substance than being a strategic ploy. He has outlined some serious questions about Andreessen's and Cook's role in several transactions. More importantly he has found a support in Elon Musk, one of PayPal's founders," Cadden said.
In short, there are cogent arguments that there is no benefit for PayPal to be a subsidiary of eBay and that a spinoff would enable PayPal to grow to its full potential.
A Reluctant eBay
eBay is understandably reluctant to spin off PayPal for financial reasons, said Francis Petit, associate dean for executive programs at Fordham University.
PayPal is a cheap funding source for eBay, he told the E-Commerce Times – and an important one.
"While eBay met their financial projections during the last quarter, their own revenue projections are below the consensus," he said. "Some have even described eBay as a potential future laggard. For revenue purposes alone within the short term, eBay needs PayPal during this uncertain time."
There are also strategic reasons to keep PayPal in-house, Petit added, pointing to such synergies as eBay enabling new accounts for PayPal.
"Icahn believes that it does not make strategic sense to have a high growth and potentially huge global payment system as a subsidiary of a company," Petit concluded.
"It is also obvious that Icahn would like to increase his own stake in eBay by casting doubt on the intentions of the current board members Andreessen and Cook and recommending his own candidates to replace them."