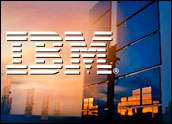 IBM is often viewed as a bellwether stock for the tech industry. Its earnings points to how other companies are investing in tech — or lately, how they are not.
Earlier this week, the company announced third-quarter 2012 diluted earnings of US$3.33 per share, a year-to-year increase of 4 percent. Third-quarter net income was $3.8 billion, flat year-to-year. Total revenue was $24.7 billion — down 5 percent from the third quarter of 2011. All of IBM's operating segments saw a decline in revenue — from services, software and hardware to global financing.
In Q3, for example, IBM's hardware sales fell an eye-popping 13 percent to $3.9 billion. Even if the decline in revenue had been expected — and it largely was not — these numbers would still be sobering for the tech industry.
No one stock is truly a tech bellwether, Mike Tarsala, chartered market technician for Covestor, told the E-Commerce Times,"but IBM is both the biggest and broadest supplier — and its across-the-board revenue weakness was a shock for the entire technology group."
It's not a death knell for the industry, he emphasized, but it suggests that Q4 expectations for other stocks in the group may need to come down even more.
There was some good news, or rather a silver lining to IBM's earnings report, Andreas Scherer, managing partner with Salto Partners, told the E-Commerce Times. Namely, net income was flat — which means IBM did a good job managing its costs.
"Also, it was able to increase its gross profit margin by 0.9 percent. So well done," he said.
How to Grow
The big issue is growth, noted Scherer. "Like many other tech companies, IBM is battling a weak world economy. Things in the U.S. are slow. The Europeans are trying to avoid an economic Armageddon, with Greece being on the brink of default and Spain being on the verge of having to request a bailout."
The list of global woes doesn't end there. China has slowed down as well. What does this mean to IBM? For starters, it has clearly spooked its customers in North America.
"IBM's business depends heavily on companies making expensive infrastructure decisions," Scherer said. "Those are easily postponed in times of uncertainty."
Revenue for the Americas' was $10.4 billion, a decrease of 4 percent from the 2011 period.
Customers in other regions of the world proved to be equally fearful about spending. Revenue from Europe/Middle East/Africa was $7.2 billion, down 9 percent. Asia-Pacific revenue posted a relatively paltry 1 percent increase to $6.5 billion.
Better news came from the BRIC countries: Brazil, Russia, India and China, where revenue increased by 4 percent.
What's Missing
Another problems for IBM is that it doesn't have any cool gadgets. Instead, IBM is associated with workhouse products for the office.
When people go to spend their discretionary income, in other words, they don't immediately think 'IBM," Scherer said. "Tablets, smart TVs, smartphones, gaming consoles … IBM has no market share in these market segments."
Not that IBM's path to a turnaround is to suddenly start competing with Apple.
"For IBM, the hope is that its bets on higher-profit software and services, such as data analysis and cloud computing, will pay off," Scherer suggested.
Calm and Assertive
IBM, for its part, is maintaining a sober public face. The third quarter saw a focus on higher-value businesses, strategic growth initiatives and productivity, said CEO Ginni Rometty when announcing the earnings.
Furthermore, Big Blue sees opportunities ahead with a strong product lineup and an annuity business that provides a solid base of revenue, profit and cash.
"We are reiterating our full-year 2012 operating earnings per share expectation of at least $15.10," Rometty said.
IBM declined to provide further details.