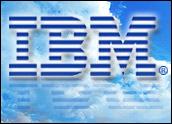 IBM has rolled out new products and services — along with a joint network offering with partner Juniper Networks — that solidifies its foothold in the enterprise cloud computing space.
The IBM-Juniper offering is an infrastructure play targeting IBM's private cloud clients. Specifically, it's a hybrid cloud service that allows users to extend their private clouds to remote servers in a secure public cloud that gives high-priority applications preference over lower priority ones when resources become constrained.
IBM did not respond to a request for comment from E-Commerce Times in time for publication.
Expanding Cloud Portfolio
IBM is further expanding its cloud services footprint with several other new offerings. It has launched an advisory service — called "Infrastructure Strategy and Planning for Cloud Computing" — that focuses on leveraging an enterprise's existing cloud assets.
It has also rolled out IBM Rational AppScan 7.8, a compliance and security play for companies that need to make sure the Web services they push into the cloud meet business and industry requirements.
Then there is its new Service Management Center for Cloud Computing — a platform for building and delivering cloud services. It is built on Tivoli Provisioning Manager 7.1 and the new Tivoli Service Automation Manager, which automate both the deployment and management of computing clouds. This year, the IBM Service Management Center for Cloud Computing will include at least nine applications.
IBM will introduce its Tivoli Storage as a Service offering later this year through its business continuity and resiliency services cloud, which will provide access to Tivoli data protection technologies.
Global Reach
A handful of companies have already implemented these new services: Indigo BioSystems, which is providing its life science and pharma clients with a storage and computing environment for data exchange via IBM's cloud; Elizabeth Arden, which is using IBM's cloud services as part of its restoration and recovery plan for enterprise resource planning and data warehouse email backup and archival; and the United States Golf Association, which is also using the IBM cloud for its infrastructure recovery plans.
Another example is TOTVS, which has expanded its ERP on-demand platform for the SMB (small and mid-sized business) market in Brazil and Mexico through IBM's cloud.
A common theme running through these rollouts is the ability to help companies maintain an extensive, even global, IT presence in the cloud.
The network service with Juniper is an example of that: IBM is installing it in its nine worldwide cloud labs, providing support for client workloads in any location — from Beijing to Silicon Valley to Sao Paulo — to keep operations running.
The joint offering is also an infrastructure play — a new focus for IBM.
Until now, the conversation around cloud computing has focused on virtualization, which is only half the story, said Ken Oestreich, VP of product marketing at Egenera.
"You also need networking and infrastructure management along with a flexible cloud," he told the E-Commerce Times.
The fact that IBM didn't mention virtualization at all is significant, in Oestreich's view. "It shows the industry is beginning to see the network side of the cloud as important as the software and virtualization side."
Big Picture
As companies mull these changes, they would do well to consider the big picture: IBM does not see cloud computing as the end-all for the industry's future, Charles King, principal of Pund-IT, told the E-Commerce Times.
Rather, it is just a strategy to help companies as the computing industry shifts to embrace IBM's vision of a "smarter planet" — a concept that Big Blue's CEO Sam Palmisano introduced last year in a speech to the Council on Foreign Relations.
"It was about a recognition that computing is becoming increasingly distributed — and not just through distributed computers in the data center, but also through smart sensors and RFID chips and embedded processors in objects you never have considered to be computing device in previous years," said King.