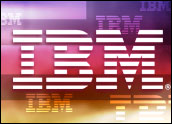 Technology giant IBM injected some much-needed good news into the stock market Thursday when it made a surprise announcement that its third-quarter profit beat Wall Street estimates by 4 US cents per share.
The financial report, which came a week early, sent shares of Big Blue up nearly 2 percent to about $92, curbing a steep slide in the Armonk, N.Y., company's stock price that began last summer. In October alone, IBM shares plummeted 23 percent.
IBM's announcement comes at a volatile time on Wall Street, where the subprime mortgage crisis, tight credit markets and several major bank failures have spurred investors to go on a stock-selling binge.
"It was important that we got [IBM's results] out in terms of the volatility of the markets," Mike Fay, an IBM spokesperson, told the E-Commerce Times.
Fay declined to elaborate on what drove IBM's better-than-expected results, saying the company would expand on the news when it holds an earnings webcast on Oct. 16.
The broader stock indices remained choppy in mid-day trading with the Dow Jones Industrial Average down 1.85 percent, the Standard & Poor's 500 down 2.23 percent and the tech-heavy Nasdaq National Market down 0.84 percent.
Profit Up at Big Blue
IBM reported third-quarter earnings of $2.8 billion, an increase of 20 percent from the same period in the third quarter of 2007. Per-share earnings came to $2.05, compared with earnings of $1.68 per share a year ago.
Revenue increased 5 percent to $25.3 billion, compared with the third quarter of 2007. Big Blue said it continues to expect full-year 2008 earnings per share of at least $8.75, or year-over-year growth of 22 percent.
The company's gross profit margin in the third quarter was 43.3 percent compared with 41.3 percent during the same period a year ago. At the end of the third quarter, IBM's year-to-date free cash flow was $6.4 billion, and its cash balance was $9.8 billion.
"More than anything else, the big issue is that the announcement brings a sense of relief to the market that the world isn't coming to an end tomorrow," Peter Misek, an equity analyst at Canaccord Adams, told the E-Commerce Times. "Their core businesses are doing fine. There is a recession in Western Europe and North America, and that will last well into next year, so the key is whether IBM can weather that."
IBM actually fell short of Wall Street's revenue expectations for the third quarter by more than $1 billion, Misek noted. However, he also pointed out that IBM's global reach and long-term consulting contracts provide certainty to investors, a high-priced commodity these days due to the current turmoil on Wall Street.
Bullish on IBM
For his part, Canaccord's Misek remains very bullish on IBM's stock. He has the company's shares rated a buy and has a 12-month target price of $135 per share.
"We still view IBM as a solid defensive name due to the company's size, cash flow, recurring revenue and geographic diversification," Misek wrote in a research note released Thursday.