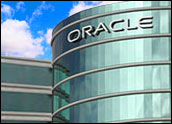 Enterprise software giant Oracle surpassed Wall Street expectations Friday by reporting a 28 percent boost in profit for the quarter ended Aug. 31.
However, Redwood City, Calif.-based Oracle said revenue and profit growth will slow down in the next quarter as the U.S. economy loses steam. The rising strength of the U.S. dollar against foreign currencies could siphon a few percentage points off growth in overseas markets, said Oracle CFO Safra Catz.
Profit and Revenue Up
Oracle reported earnings of US$1.1 billion on $5.3 billion in revenue for the latest quarter.
"The company reported that they had a very strong, stable quarter, and that the prospects for the future look bright," Richard Williams, an equity analyst with Cross Research, told the E-Commerce Times.
However, like other software companies whose main customers are large businesses, Oracle is due for a slowdown, according to Williams.
"It appears to us that there is some slowing in their applications and database business," he said, "although it's not yet clear how significant that slowing might be. The database update and support revenues have slowed down in the last couple of quarters, but it's not clear yet what that is telling us. The company is making its numbers, but one core aspect of its business is slowing."
Financial Services Fallout
Oracle's Catz downplayed the notion on Friday that the recent financial turmoil on Wall Street could put a dent in Oracle sales, saying the sector represents just a small portion of the company's overall business.
That's hard to believe, remarked Cross Research's Williams.
"A number of the many software companies [Oracle] bought over the last few years, like Siebel, have a lot of customers in the global financial services industry," he said. "In fact, Oracle's [enterprise software] strength was always in the financial sector. Hyperion, an analytics company that Oracle acquired, also had a lot of exposure in the financial sector."
Many enterprise software companies are experiencing difficulties due to the crisis on Wall Street.
"We've seen other software companies that have missed numbers or had similar situations to Oracle," Williams said. "Our channel checks indicate business is slowing. Lawson Software missed their numbers."
Liquidity an Issue
The U.S.' current economic problems are not limited to the issues on Wall Street, either.
"We're very rapidly learning that the crisis is not just financial services," observed Williams. "It extends well beyond that to the availability of credit for businesses to finance their working capital. That's like cutting off the air supply. Without an adequate supply of credit, the economy starts to die. If companies are hoarding cash, it's going to be tough for them to step up to the big-ticket purchase. These numbers out of Oracle could be a warning."