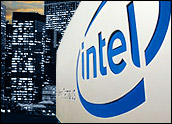 Shares of Silicon Valley chip giant Intel closed up nearly 8.5 percent at just under US$19 Tuesday on news that an equity analyst at investment bank Piper Jaffray upgraded the stock to a buy rating.
The upgrade comes at a time when shares of other chipmakers such as Advanced Micro Devices and Texas Instruments are trading well below their 52-week highs.
Intel's stock is also benefiting from the belief that — given its dominant market position and superior cash flow — Intel is a relatively safe investment at a time when Wall Street is reeling from some of the most tumultuous developments in its long history.
Intel: A Cheap Stock
Like many of its counterparts in the semiconductor industry, Intel is also trading well below its 52-week high. However, the company has advantages that competitors AMD, Texas Instruments, Samsung and Infineon do not.
"The company has tremendous cash-flow characteristics," Gus Richard, the Piper Jaffray analyst who upgraded Intel, told the E-Commerce Times. "That's a huge competitive advantage and one that is extending, not contracting. At some level, Intel has become an exceedingly cheap stock."
In the quarter ended June 26, Intel reported cash and cash equivalents of $7.6 billion and generated $2.8 billion in cash from its operating activities. At the same time, Intel invests billions every year in technology and in improving its semiconductor manufacturing processes.
"No one else can invest at the level Intel can," Richard said. "We're going through a rough economic time, but if I had money lying around and I had to put it somewhere, I'd actually put it in Intel. I'd get a better return than I would in the money markets or T-bills — and Intel is much more likely to pay a high dividend."
Intel's perceived cash position could be deceiving, though.
"The only thing I would argue is that a lot of Intel's cash position is in investments, so they tend to get whacked when the markets go down," Doug Freedman, an equity analyst with American Technology Research, told the E-Commerce Times. "I suspect it's a negative right now due to the turmoil on Wall Street."
Growth Is a Challenge
Intel's main challenge now is how to continue growing. The company is one of many stocks that make up the Dow Jones Industrial Average — the bailiwick of mature, slower-growth, cash-producing businesses.
"It's a 6 percent grower in terms of net revenue, so it's not very exciting," Piper's Richard said.
Another potential hurdle Intel faces is a trend in the computing industry that has seen large businesses favor lower-end chips.
"I think there's a tremendous shift towards the low end in the chip market, which will make it very hard for Intel to sustain revenue and profit growth," noted Freedman.
Most of the growth for PC chips is now situated outside of the U.S. in countries such as China, India, Eastern Europe and South America. However, the current financial turmoil on Wall Street could turn into an advantage for Intel, if a federal bailout of America's crumbling financial institutions is passed in Congress.
"The federal government is either going to let the system fail or print lots and lots of money," Richard said. "That will lead to inflation and weaker U.S. currency. Today, 75 percent of PCs are sold outside of the U.S., so the weak dollar benefits [Intel]."