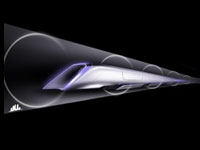 JumpStarter aims to use its new JumpStartFund platform to help Elon Musk's Hyperloop project draw the attention and investments it needs to get off the ground.
Musk's design for a high-speed transportation system that could transport people between San Francisco and Los Angeles in a little more than half an hour has drawn interest from the science and tech communities. However, given his SpaceX and Tesla commitments, Musk doesn't have the time to take his design from idea to reality.
That's where JumpStartFund comes in. The platform could become a hub for those interested in refining the Hyperloop plans, as well as raising the funds needed to execute them. Musk estimates that the Hyperloop would cost US$7.5 billion to build.
From Conception to Funding
The Hyperloop project will go through JumpStartFund's standard evolutionary process, which includes allowing investors to comment, add insight, and vote on the stages of the project from its conception to funding.
The inclusion of stakeholder voice is one of the ways in which JumpStartFund is different from popular crowdfunding programs like Kickstarter, said Richard Swart, director of research at the Program for Innovation in Entrepreneurial and Social Finance at the University of California, Berkeley.
Another big difference between the JumpStartFund approach versus Kickstarter's is that JumpStartFund accepts insight and funding only from accredited investors, and it offers those stakeholders equity in return.
Those differences suggest both greater challenges in advancing the Hyperloop project and greater possible rewards for those who do, said Swart. Allowing only accredited investors automatically narrows the available pool, and finding enough interested shareholders could be a challenge.
Still, JumpStartFund could be a great forum for investors who could truly add insight or significant amounts of money to take on the technical, legal and funding hurdles that the Hyperloop would have to overcome, he added.
"It is an extremely smart way of generating attention for the platform, which appears to be targeting to the right type of investors for tech commercialization." Swart told the E-Commerce Times. "It will help the platform attract attention of investors. This is the Achilles heel of crowdfunding — entrepreneurs are always going to be seeking investors. The challenge is to attract investors to participate on a funding platform."
Don't Hold Your Breath
A crowdfunding initiative could get the Hyperloop off the ground, suggested Robert Hoskins, director of crowdfunding media relations at Front Page Public Relations.
"They could raise enough money to get the momentum going," he told the E-Commerce Times. "They could certainly turn their campaign into the little train that thought they could as they chugged and chugged until they made their way over the hill of doubt and naysayers."
Still, even the site's most optimistic backers probably don't think that JumpStartFund could function like a successful Kickstarter campaign, Swart noted, many of which accumulate the funding needed to whip together a prototype in a mere 30 days.
"The strategy is not to raise the project funds through crowdfunding," Swart maintained. "The strategy is to … attract interest from potential investors, to organize a community around the project so the ideas can be refined, and eventually to move from crowdfunding to traditional finance."