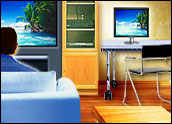 Hulu, the video Web site from NBC Universal and News Corp., will open its virtual viewing rooms to the public Wednesday.
Announced nearly one year ago, the free video streaming site launched in October 2007 with an invitation-only beta.
Range of Content
Hulu offers its users a wide variety of video content from NBC Universal and News Corp.'s Fox networks and movie studio. Content is also made available through newly announced tie-ups with Warner Bros. Television Group, Lionsgate, the National Basketball Association, the National Hockey League and some 20 other content providers.
The site offers more than 250 TV series, ranging from older fare such as "The Dick Van Dyke Show," "The A-Team" and "Miami Vice" to currents shows like "The Simpsons," "The Office" and "Family Guy." Cult hits like including "Arrested Development" are also included the expansive catalog of shows.
For users who can spend hours in front of their computers, Hulu also offers 100 full-length movies, including "The Big Lebowski," "Me, Myself & Irene," "Some Like It Hot," "The Usual Suspects," "Ice Age" and "Three Amigos." On the short side, clips from more than 150 TV series can also be viewed.
Other programming available on via the service includes nightly highlights and top plays from the NBA and the NHL as well as Web-based programmers like "Prom Queen" and "Onion News Network."
Making Online Safe for Advertisers
During the last month of the site's beta run, more than 5 million users watched the ad-supported content either on Hulu or through its distribution network, which includes AOL, Comcast's Fancast.com, MSN, MySpace and Yahoo.
"Hulu has managed to win over a lot of initial skeptics with its design and syndication capabilities. Obviously, it has a way to go to establish itself as a major player in online video," said Andrew Frank, a Gartner analyst.
The service has already laid the foundation necessary to win over advertisers, in part by offering a controlled environment for their brands, according to Frank.
"Traditional brand advertisers are still wary of some of the uncontrolled social environments that characterize much of the Internet, and for them, the safety of professional traffic will be attractive. However, the value of a channel to advertisers is ultimately related to its ability to reach a desired audience in a timely and persuasive manner," he explained.
One-Stop Video Shop
Hulu's goal is relatively simple, James McQuivey, a Forrester Research analyst, told the E-Commerce Times.
"Nobody stands a chance against YouTube, but luckily for Hulu, that's not what they're aiming for. Instead, they are just trying to build an online video experience that helps all their partner sites — AOL, MSN, Yahoo and so on — build an online TV audience," he explained.
That allows everyone concerned to make money from the advertising dollars being sent Hulu's way, and that is "really the secret here," McQuivey continued. "As long as Hulu protects the content it has been given, it will get good content, which — when combined with a good experience and the right partners — will attract an audience."
So far, however, Hulu has been unable to bring the other two major network broadcasters, ABC and CBS, into the online fold. As consumers become increasingly media saturated, it is not enough to have content from one or two providers, said Anton Dessinov, an analyst at Yankee Group.
"For Hulu, it is a drawback that it doesn't have ABC and CBS content," he told the E-Commerce Times.
While chances are good that CBS could potentially join Hulu, ABC has been fairly exclusive with its content, making it unlikely that the users will find shows like "Lost" on Hulu anytime soon.
"In terms of CBS, what it is going to boil down to is reach and revenue share," Dessinov explained.