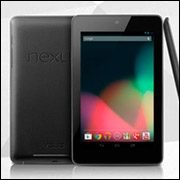 Specifications for HTC's 8.9-inch Volantis tablet, which may be renamed "Nexus 9," have been reported by Android Police.
The device will ship with a 2048 x 1440 display, a Tegra K1 Nvidia Logan 64-bit processor, and 2 GB RAM. It will have the option of either 16 GB or 32 GB of storage, and will come with 8 megapixel rear-facing and 3 megapixel front-facing cameras, according to the report.
It may prove both thicker and heavier (418 g or 427g with LTE connectivity) than Samsung's Galaxy Tab 8.4 (298 g).
HTC's tablet may be the launch device for Android L, the next version of the operating system, which has an expected release window of Q4 2014. Pricing for the device may start at UA$399 for the 16 GB version and $499 for the 32 GB, with a premium for LTE connectivity, though Android Police noted those figures may change before launch.
Expected Release
The Nexus 9 may very well be the last device in Google's Nexus line, as the company turns its focus toward a premium brand of smartphones and tablets.
Rumors are swirling that Google is preparing to ditch Nexus in favor of Android Silver, and so Volantis may be the final Nexus product. With Silver, the company apparently is hoping to establish a stronger presence in the fractured Android ecosystem to more strongly compete with Apple while fending off leading Android manufacturer Samsung.
Through the Silver program, Google will pay manufacturers and wireless carriers to build and distribute high-end devices while sticking to Google specifications, such as limits on the number of preloaded non-Google apps that ship with the devices, and the ability for consumers to delete those proprietary apps, according to a report published earlier this year.
'2 Tablet Markets'
"I suspect that Android Silver is an attempt to not cede all the profit in the tablet market to Apple. At present, there are really two tablet markets: the iPad market and the commodity Android tablet market," Carl Howe, vice president of research and data sciences at the Yankee Group, told TechNewsWorld.
"The former contribute significantly to Apple's profits, the latter contribute nothing to Google's. If Google can successfully drive high-end Android tablet demand through the Android Silver marketing and branding, then it stands to be able to charge for that added value to its partners," Howe explained.
"However, Google Silver's success remains a big if," he said. "The Nexus brand didn't really clear that bar, and it remains to be seen why Android Silver will work better."
The first Android Silver devices will not reach the market before 2015, Android Police reported. If that time line is accurate, it makes sense that Google would want to use a Nexus product as the flagship device for Android L.
"The fundamental challenge that Google faces is that its Android strategy has created a commodity tablet market with multiple manufacturers competing to produce the lowest-cost devices," Howe pointed out.
"Unfortunately, while low-cost commodities drive volume, they don't necessarily drive brand value or high profits, and it's extremely rare that any company can successfully execute on both a high volume and premium brand strategy simultaneously. At some point, Google's Android is going to have to choose what it wants to be when it grows up," he said. "At this point, I'm not convinced that it has figured that out."
Android's Future
That said, the future of the Android platform, as pertains to Google's involvement in the hardware side of products, may have nothing to do with smartphones or tablets.
"It's been our belief since the first Nexus device was introduced that these are all part of that end-to-end story that Google is looking to have in the market to give audiences an understanding of what that experience should be like," Jeff Orr, senior practice director at ABI Research, told TechNewsWorld.
"As the OEM (original equipment manufacturer) partner ecosystem develops and you have success from different players — you could look at the success Samsung's having, for example — is there a need for Google to be offering that Nexus product? That's an open discussion," he pointed out.
"Arguably, at some point we would expect Google to exit the business of offering its own devices under the Nexus brand and simply rely on the partner ecosystem," Orr said.
"At this point, it's a question: When are we going to see those last devices? When has that success occurred? Does it need to be more than one partner, such as Samsung? Do we need to see two or three more vendors capable of offering that volume — the suite of products that Samsung does offer today? What are those milestones? What are those benchmarks?" he mused.
"Thinking ahead to I/O (this week's Google developer conference), perhaps we don't need to see new Nexus devices. Perhaps we need to see that next wave of solutions," said Orr."
"This is more about Android Wear and the wearable types of platforms that are going to ride on top of Android devices and work in partnership with them," he suggested. "That may be where Google as an organization needs to focus its energy next."