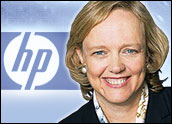 Shares of HP had slightly recovered by mid-day Tuesday from the overnight slide of up to 6 percent they endured following the company's fourth-quarter earnings report Monday.
Its fourth-quarter earnings — HP's first quarter under the guidance of new CEO Meg Whitman — beat expectations, though its outlook for the coming year left investors unimpressed.
The company reported US$239 million in revenue, or 12 cents per share, a significant cut below the $2.5 billion it brought in a year ago. Much of that loss was a direct result of the $3.3 billion HP paid to discontinue its tablet and smartphone operations, along with some costly acquisitions, including Autonomy. Whitman said the company won't be making any big acquisitions in 2012.
Imaging and printing operating income, previously a significant cash generator, was down from $1.22 billion a year ago to $808 million. Enterprise services, storage and networking sales were also down by about 4 percent from last year, mostly because systems sales fell 23 percent thanks to Oracle's decision to stop focusing on enterprise software for HP's Itanium systems.
HP forecast a weak 2012, suggesting a regrowth period will still be underway, and it will operate with only EPS guidance going forward.
PC or Not PC?
One of the largest questions hanging over HP's report was how its PC business would survive after previous CEO Leo Apotheker's decision to sell or spin off the division. When Whitman came on board, she reversed course and opted to keep PCs on board.
"Going forward, PC won't be an area of focus. It's not going away, but there are a number of issues there, and there are much bigger upsides in other areas, where it's possible even just to see adequate, if not good, returns," Michael Holt, analyst for Morningstar, told the E-Commerce Times.
Since PCs are part of the company's core business, keeping the PC business appears to stay in line with Whitman's promise to get back to basics and, as she said Thursday, to keep the "drama" out of the company — a reference to the confusion regarding the state of its PC business, acquisitions that critics called bizarre, the discontinuation of the Touchpad tablet weeks after its launch, and various information leaks to the media.
"She's there to get the house in order, that's what was really disrupting the stock, because there was really no control over there, specifically a lack of control at the top," said Holt.
Order Restored?
HP itself isn't saying that chaos is completely gone yet. Whitman said HP didn't live up to expectations for these earnings and the 2012 outlook suggests restoration will be an ongoing process.
"This is kind of the first step in that direction. They came into the quarter hoping to send a message for what their plan is for the next 12 months, that they were going to focus on the business units in place and not focus on aggressive acquisitions," said Holt.
Instead of pricey buys, Whitman said after the earnings report that HP will spend about 10 percent more on research and development than the $3.25 billion HP devoted to it in 2011, although the investment was expected to yield long-term payoffs rather than short-term rewards.
Whether or not her decisions will do more than simply stabilize the company remain to be seen.
"She does not have any experience with managing a supply chain, or a company as large and complex as HP. We believe that performance at the top line or at the operational level may prove to be less than ideal going forward, which seems more likely in light of HP's decision to only guide at the earnings level," Anj Singh, analyst for Needham & Company, told the E-Commerce Times.
Even if she can bring the company to a point at which it's ready to continue with aggressive acquisitions and to compete in emerging or rival markets, that's not the focus at HP now.
"They didn't bring her in necessarily to be a tech visionary. They brought her to get the house in order, and they're going to work through immediate goals of issues with printing and services. There are investments there that are going to take years to work out. With R&D, they're going to have to build up other areas to offset the loss of the critical systems business," said Holt.