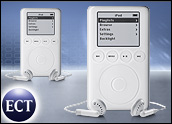 Hewlett-Packard has shaken up the high-tech industry, saying it will work with Apple Computer to build its own version of the Apple iPod and will include Apple's digital jukebox software on its new personal computers.
The partnership provided the biggest surprise so far during a hectic week of one-upmanship at the Consumer Electronics Show in Las Vegas, where giants including IBM, Intel, Microsoft and Sony have trotted out new offerings in an effort to stake a spot near the forefront of the computer-to-electronics convergence movement.
HP said it decided to partner with Apple, whose iPod is the best-selling digital music player in the market, rather than follow the lead of rival Dell by designing its own player, because the Apple product would be difficult to improve upon.
"It's an elegant solution," HP vice president Chris Morgan said.
Partners in Time
In addition to making the HP iPod, which will become available at retail outlets this summer, HP also will include Apple's iTunes software on new PCs, which will carry a desktop icon that links users directly to the iTunes Music Store download site.
Analysts generally saw the HP-Apple partnership as a threat to two competitors: Dell, whose own portable MP3 player has struggled to gain traction in the iPod-dominated market, and Microsoft, which has been promising its own music download options, presumably along with a standard to protect copyrights and prevent piracy.
"It's very unusual to see Apple partnering with another computer maker," IDC analyst Susan Kevorkian told the E-Commerce Times. "That only underscores how unusual this market opportunity is and how much turmoil and angst it's causing for the computer industry. What's the right approach? It's so new, no one can say right now what's going to work."
Just the Beginning
With its announcement, HP became the latest company to use the Consumer Electronics Show to raise the curtain on a new family of electronics products.
In addition to its iPod partnership, the company also debuted what it called an entertainment "hub" — a way of managing digital content ranging from television shows and movies to digital photographs and music.
"Much of the attention in the industry has been focused on the devices we hold in our hands or hang on our walls," HP CEO Carly Fiorina said. "But the digital entertainment experience is about much more. It's about the creation, distribution, management and enjoyment of all kinds of digital content from all kinds of sources. What matters now is making all of the various digital entertainment products and content work together."
HP said it will roll out new digital displays in 2004, along with new printing technology to enable consumers to make professional-quality labels for CDs and DVDs. The company also said its handheld organizer, the iPAQ, will become "an intelligent remote control that consumers can use to control all of their entertainment devices."
Big Blue Too
Separately, IBM made a splash of its own, saying it will join forces with RealNetworks to develop better channels through which content owners can sell their products to consumers over the Internet.
That move links two of Microsoft's most bitter rivals. Indeed, the ink is hardly dry on RealNetwork's billion-dollar antitrust suit against Microsoft, which itself used the trade show to trot out new products and to highlight the number of electronics firms lined up to use its digital rights management standard for streaming content.