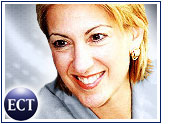 Posting its best overall quarter since merging with Compaq more than a year ago, Hewlett-Packard outpaced earnings and revenue estimates in the third quarter and said all five of its business segments operated in the black.
The company said it brought in revenue of US$19.85 billion during the quarter ended October 31st, up from $18.05 billion a year ago. Profit more than doubled in the quarter to $862 million.
"By any measure, we hit our stride and demonstrated what the merger was all about," said HP CEO Carly Fiorina, who is credited with being the architect of the controversial $19 billion merger with Compaq. "We delivered on our commitments. We exceeded our integration and cost saving goals ahead of schedule."
HP did not provide an outlook for 2004. However, it did say revenue will be down slightly quarter-to-quarter in the last three months of the year, although it still should be above analysts' estimate of $19 billion.
Little by Little
In a conference call, Fiorina said HP is laying out its business plan for 2004 with the expectation that business will improve gradually.
"We are not counting on a huge improvement in demand in the enterprise space," she said. "It is fair to say people are becoming more cautiously optimistic."
Other companies have been more upbeat about the outlook for next year. For example, IBM said it could add up to 10,000 additional workers next year, and AMD and Intel both said they are preparing to meet ramped-up demand.
Ready To Compete
For HP, the most important aspect of its earnings report is that all of its units turned a profit — the first time that has happened since the merger closed last May. While services and other sectors have been humming along for some time, the computer hardware unit has struggled, serving as a sign to some observers that the merger was making it harder for HP to compete head-to-head with the sleek and aggressive Dell.
"The competitive landscape will be much more interesting if HP can get a solid foundation under its PC unit," said IDC analyst Loren Loverde. "HP is in a position to use Compaq to take advantage of the shift to notebooks if it can continue to find ways to compete on price with Dell and others."
Loverde said HP's branding and consumer products pushes — Fiorina said the company is committed to spending $600 million to strengthen its brand image — should help it keep pace with Dell as the two giant companies jockey for first place in the PC market.
Ship Shape
HP said personal systems revenue climbed 19 percent, thanks largely to a 53 percent jump in the number of notebook units sold. Imaging and printing, with record numbers of printers sold, remained HP's strongest suit in terms of profit generation, according to Fiorina.
Shaking off several quarters of weakness, HP's enterprise systems unit eked out 2 percent revenue growth and swung from a loss of more than $100 million last year to a profit of just over $100 million this year. Servers — HP regained the worldwide lead in server shipments in the third quarter — and storage systems helped pace the division.
Finally, services continued to grow, expanding 36 percent year over year despite a decrease in consulting revenue. HP has landed several key outsourcing contracts that call for the company to provide long-term support and maintenance for IT networks, rather than consulting on how to develop or integrate them.