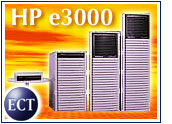 Hewlett-Packard has announced it plans to stop actively selling its e3000 servers, which have a history stretching back more than 30 years.
However, the company said it will continue to offer service support for the product line for another three years and may extend software updates and patches beyond that time frame. HP initially signaled its intention to curtail active sales support for the line, originally known as the HP 3000, in 2001, but only this week confirmed when sales would cease.
Attachment to the line remains strong in some corners, with a Web site listing dozens of locations, from Australia to Massachusetts, that are holding mock "wakes" to mark the passing of e3000 servers, which were launched in 1972.
Not So Sad
HP rival IBM is seeking to use the discontinuance to convince HP customers to switch to its products. In fact, IBM spokesperson Colleen Haikes called HP's move a "coup" for Big Blue, telling the E-Commerce Times that several high-profile customers already have switched to IBM servers in anticipation of the end of service support.
Specifically, IBM said Strauss Discount Auto, Alpine Electronics and Lady Remington Jewelry all have replaced e3000 servers and other HP products with IBM alternatives in recent months.
For its part, HP has been offering incentives to encourage existing customers of the e3000 line to switch to other HP products, including discounts on migration services. Recently, the company said it had not lost any customers as a direct result of discontinuing the e3000 line.
Two-Horse Race
In recent quarters, IBM and HP have emerged as each other's main competition. Data from research firm IDC shows IBM commands 30 percent of worldwide market share for server sales, while HP holds nearly 28 percent. Both companies far outdistance third-place rival Sun, which has seen its share of sales slip to less than 14 percent.
IDC vice president Jean Bozman told the E-Commerce Times that HP and IBM are likely to remain head-to-head rivals for server dominance for some time.
"They're the companies that are seeing the most growth," she said. In fact, she noted, Sun and others saw server sales decline. "The way the trends are heading, it looks like they are going to start fighting for the same customers who are upgrading in the next cycle or migrating from other brands."
Both IBM and HP have benefited from a trend toward increased use of open-source software on servers, Bozman added.
However, the two companies have taken quite different approaches to winning open-source customers. While HP announced it will offer legal indemnity to customers who buy its Linux products, protecting them from lawsuits that could be launched by SCO Group, IBM has continued to assert that SCO has no legitimate claims to the Linux platform.