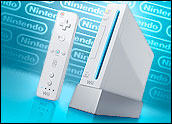 New stats confirm what many holiday shoppers already knew: Nintendo's Wii was the most popular game console of the season, with 1.35 million flying off shelves. Its popularity provided a huge boost to the industry, said theNPD Group, which issued the report.
In 2007, the video game industry hauled in a record US$17.9 billion in sales, 43 percent higher than the $12.5 billion record set in 2006.
December, in particular, was a great month for the industry, with Microsoft and Sony also benefiting from consumers' avid interest in gaming. In December, 1.26 million units of Xbox 360 and close to 800,000 units of PlayStation 3 were sold.
All together, U.S. sales of video game hardware and software rose 28 percent in December compared with the 2006 sales stats.
Breaking It Down
Not surprisingly, given the cult status it has attained, the Wii proved to be the most popular game console in the U.S. in 2007, selling nearly 6.3 million units. Gamers purchased 4.6 million Xbox 360 units last year and nearly 2.6 million PS3s, according to NPD data.
December's top selling game was Activision's "Call of Duty 4," at nearly 1.5 million units sold. At No. 2 was Nintendo's "Super Mario Galaxy," at 1.4 million. "Guitar Hero III" for the PlayStation 2 came in third, with 1.25 million units sold. The fourth best-selling game was "Wii Play," which accounted for more than 1 million sales.
The year ended with Microsoft's "Halo 3" reigning as best-selling title for 2007, with more than 4.8 million sold in the United States. "Wii Play" and "Call of Duty 4" followed in second and third place, with 4.1 million units and 3 million units sold, respectively.
How Long?
It was a good year for Nintendo, thanks to the Wii's popularity, but it is likely to go downhill from here, Yankee Group Director Mike Goodman told the E-Commerce Times.
"Yes, the platform is wildly selling, but no one is playing games on it," he contended.
Sooner, rather than later, third-party publishers are going to abandon it, Goodman predicted, or least throw resources toward other platforms as well.
When price points for other consoles come down, gamers are going to move in their direction, he said. "You really have to question what kind of legs [Wii] will have when it sells out the Nintendo market."