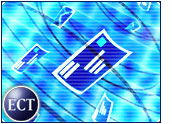 Hotels.com's offices were evacuated Tuesday and its stock suffered a sharp drop after a white powdery substance was discovered in the company's mailroom. Local authorities in McAllen, Texas, ordered the evacuation of the Hotels.com processing center — where about 100 people process reservations made through the site — as well as a nearby department store.
Most of the employees in the building at the time underwent decontamination procedures.
Various media sources had initially reported that the company's reservation processing facility might have been contaminated with a white-powder substance. "However, after a thorough investigation by authorities, this proved to be a false alarm," Hotels.com said in a statement. "Within just a few hours, personnel were back in the building conducting business as usual after an initial evacuation, and the company's operations were not affected."
Jumping to Conclusions
Apparently, the scare started when employees opening suspicious letters found the powder and subsequently broke out in hives. But authorities determined that the powder was only dust, and they speculated that the hives probably were caused by sewer gas coming from faulty plumbing in the building.
Hotels.com spokesperson Molly Branch said the company did not shut or slow operations. Instead, alternative sites picked up the slack during the three to four hours that employees were evacuated. "Everyone did what they were supposed to," Branch told the E-Commerce Times.
Stock Sell-Off Scare
However, in the immediate aftermath of news reports of the incident, Hotels.com shares lost more than 4 percent of their value in a matter of minutes.
Some analysts speculated that the scare helped fuel an ongoing stock sell-off, reminding investors of the weeks-long period in October 2001 when a string of anthrax scares hampered mail delivery and shuttered several government buildings.
With the anniversary of September 11th approaching, they noted, investors might be spooked by anything remotely resembling the events of last year.
Checking In
Hotels.com was a low-profile e-commerce player until early June, when majority owner USA Interactive targeted it, along with Expedia and Ticketmaster, as part of a US$4.5 billion plan to consolidate its e-commerce holdings. That plan has since been put on the back burner in the face of opposition from shareholders.
Meanwhile, the online market for hotel reservations has been changing rapidly as travel sites like Expedia and Priceline.com, which previously relied on airline tickets to fuel sales, have turned to hotel bookings for needed revenue growth.