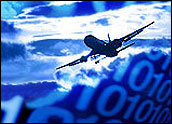 Expedia saw revenues climb sharply and income nearly double during the second quarter, a performance that — at least temporarily — might help allay fears about slowing growth in the online travel space.
Expedia said it saw growth on all fronts as gross bookings rose 66 percent to US$1.33 billion, revenue rose 85 percent to $145 million and net income increased 94 percent to $29.2 million, exceeding the company's own projections and those of analysts.
The company's CEO, Richard Barton, said the growth stemmed largely from vacation bookings and that new initiatives should make it possible for Expedia to continue climbing.
"Key to our success this quarter has been anticipating and satisfying our customers' summer vacation needs," he said. "The recent announcement of our entry into the corporate travel market and the acquisition of Metropolitan Travel continues our expansion of the addressable market for our technology-based travel services."
Hotels Booming
Signs also point to Expedia stealing market share from rivals. The company's site has rapidly become the most popular online travel destination, drawing up to 12 million visitors per month, according to Nielsen//NetRatings.
Expedia said it sold 2.6 million hotel nights during the quarter, almost half of themthrough non-agency merchant accounts. In fact, merchant revenue more than tripled to $85.7 million, a rise Expedia attributed to its discount hotel offers and itsacquisition in March of Classic Custom Vacation.
The merchant business growth "validates our strategy to diversify our business model over the past couple of years," said Expedia chief financial officer Greg Stanger. "We believe our hotel, packages and tours businesses — with their higher net-revenue and gross-profit characteristics — will continue to increase their contributions to Expedia's financial results."
Cloudy Future
Despite the good news, Expedia shares continued to fall. Morningstar.com analyst David Kathman told the E-Commerce Times that Expedia is a victim of its own recent success.
"It shows you how high expectations have become," he said. "The numbers are excellent, but they didn't blow away expectations as thoroughly as Expedia has done the past couple of quarters."
However, last week's earnings news from the Sabre Group, which absorbed Travelocity earlier this year, has some analysts wondering whether the feel-good story about online travel is running out of steam — despite the fact that the sector rebounded more rapidly from September 11th than many predicted.
Travelocity's revenue decreased in the second quarter, falling about 7 percent to $76 million. Sabre managed to increase earnings, largely through cost-cutting, but the company warned that it would likely fall short of analysts' projections for the rest of 2002.
High Flyer
Just a couple of months ago, Expedia was among an elite group of Internet stocks testing new high levels. It traded for more than $84 in late May.
Some analysts say that a proposal by USA Interactive to buy the portions of Expedia, Hotels.com and Ticketmaster that it does not own already has depressed the stock's value. Others say the stock was overvalued at its May levels and is now priced more in line with its earnings and growth potential.
"Expedia should be valued on its fundamentals," said Kathman, adding that the stock has recently slipped below what Morningstar.com considers its fair value. Expedia shares were down $3.54 to $44.87 in midday trading Wednesday.