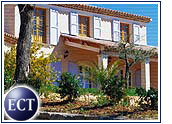 Homestore.com (Nasdaq: HOMS) was down 58 U.S. cents at $19 in morning trading Thursday, even as PrudentialSecurities began coverage of the stock with a strong buy recommendation and a 12-month price target of $32.
Earlier in the day, the stock traded as high as $20.50. Homestore's 52-week high is $55.
Homestore's "strategic alliances with key industryplayers will help the company build a fortress around its business, andsustain a competitive advantage," according to Prudental.
"The opportunities ahead of the company are tremendous, considering the realestate market accounts for almost $2 trillion of U.S. economic activityannually," Prudential said in a research note.
Homestore gets its revenue from industry subscribers, transaction fees andthe licensing of its online software. The company, according to Prudential,"has tried to become an integral part of industry participants' dailyroutine, and if successful, the associated recurring subscription revenueshould decrease the company's exposure to economic downturns."
For the fourth quarter ended December 31st, Homestore reported income before extraordinary items of $3.3 million, or 4 cents per share, compared with a loss of $16.2 million, or 23cents, in the year-earlier quarter. Revenue rose to $79 million from $28million.
The company, based in Westlake Village, California, has said it expectsfirst-quarter 2001 revenue of $81 million to $83 million, with pro formaearnings of 5 to 7 cents per share.
Homestore has exclusive agreements with the National Association ofRealtors, the National Association of Homebuilders and other industrygroups, in addition to a partnership with America Online. The company alsoplans to acquire Move.com.
The Prudential analysts said that while Homestore stock is not "cheap," evenat current depressed levels, "we believe patient investors will berewarded."